Next-gen Chevy Cruze caught cruising in the cold
Wed, 13 Feb 2013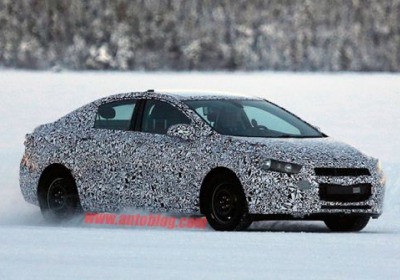 Spy photographers have caught what looks like the next-generation Chevrolet Cruze out on snow patrol. The camo could be tricking our eyes, but it look like it has an even tidier, more rounded front end and even lower fenders in relation to the top of the hood. And either a chunk of camo has been wedged between the side mirrors and the doors, or the mirrors are up for revision, too.


The door handles have been moved up the side of the car, leading the way to a rear end that grows a bit in length. If the rumors are true, the coming second-generation Cruze sits on the new D2XX platform that will replace the Delta and Theta platforms at General Motors. A global architecture, the Cruze will be the first to get it, but it will underpin everything from next Chevrolet Volt to the Equinox and could be responsible for 2.5 million units by 2018. The next Cruze is expected to begin production in GM's Lordstown, Ohio plant in the third quarter of 2014.
---
By Jonathon Ramsey
---
See also: First 2014 Chevy Corvette Stingray spotted crashed in the wild, Chevrolet Malibu gets across-the-board price cuts, hopes to dig out of slump, C7 Corvette makes inaugural ad appearance in Chevy's first spot with new slogan.