C7 Corvette makes inaugural ad appearance in Chevy's first spot with new slogan
Mon, 11 Feb 2013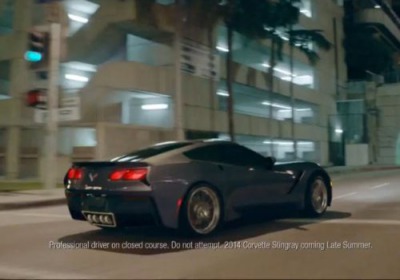 Chevrolet's "Runs Deep" tagline has finally been run into the ground, replaced with the Bowtie brand's "Find New Roads" slogan that's part of parent General Motors' plan to unify its everyday brand's marketing efforts worldwide. The new Chevrolet campaign was ushered in on prime time last night during the Grammy Awards on CBS, and the first spot, a 90-second full-line ad, also marks the first appearance of the 2014 Corvette Stingray in a commercial.

Being a full-line ad, the commercial is composed of vignettes centered on different vehicles in the brand's lineup. The all-new 2014 Impala also makes its first commercial appearance in dapper fashion, and time is spent on a skateboarding Sonic and a bouquet of brightly colored Spark hatchbacks driven by fashionable women. The ad starts and ends with Chevy's green halo car, the Volt, along with a young girl with her robotic dog (yes, really).

Chevrolet's "Runs Deep" campaign got off to a rocky start in the fall of 2010, but it did last for a couple of years with some tweaks. This new one, "Find New Roads" seems more intent on drawing new customers into the fold than the outgoing tagline, which seemed to play more toward the brand faithful. It admittedly reminds us more than a little the short-lived "Find Your Own Road" Saab motto (which, we note, was conceived while the Swedish brand was under GM's control), but no matter, we still think it's got more long-term potential than "Runs Deep."


Scroll down to watch the video.


---
By Chris Paukert
---
See also: Chevy shows much-improved 2014 Corvette interior in new video, Helicopter crashes on Top Gear Korea set while chasing Corvette ZR1, Watch this time-lapse build of the Chevy SS for NASCAR.