Motor Trend pits Aston V12 Vantage S against Jaguar XKR-S GT in battle of the Brits
Fri, 20 Dec 2013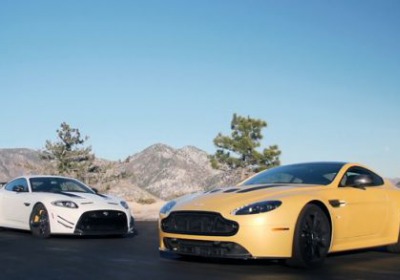 With the recent increase in higher-performance versions of already high-performance vehicles, like Mercedes-Benz and its AMG Black Series, the public is now gaining even greater access to speed and maneuverability. Two of the most recent sports cars to get their wicks turned up include the Jaguar XKR-S GT and the Aston Martin V12 Vantage S.

Both of these cars are the pinnacles of their lines, with the Jag lording over the XKR-S, XKR and XK while the Aston rules over the standard V8 Vantage S and V8 Vantage. Motor Trend has opted to pit the two rivals together for some thorough testing, and it just happened to bring along a few video cameras to capture all the action.


There's nearly 19 minutes of super hot sports car action below, so scroll down and enjoy.



---
By Brandon Turkus
---
See also: Jaguar appoints Joe Eberhardt as North American President, Aston Martin and Mercedes-AMG formalize technical partnership, Stunning Jaguar E-Type Lightweight tribute featured by Petrolicious.