More Corvette Stingray Factoids: Vanishing panel gaps and 26-mpg LT1
Thu, 28 Feb 2013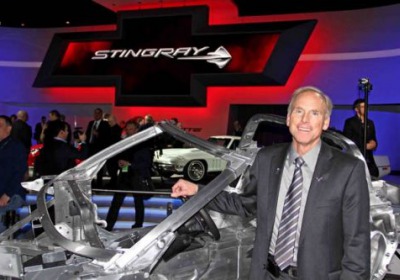 During January's Detroit Auto Show, we managed a longer than expected wandering tag-team interview with C7 Corvette chief engineering exec Tadge Juechter (pictured above), and LT1 engine boss Jordan Lee (pictured below). They are, quite honestly, two of the very nicest bigshot lads to ever walk the engineering corridors of an American manufacturer. Both are enthralled by what they're doing for a day job. So are we.

We've followed the pre-sale anticipation for the Chevrolet C7 Corvette Stingray like an Oreck vacuum yanking every speck of dirt from a well-trampled carpet. Everything is reportable and contains a grain of further knowledge about this dramatically important and cheered-for car, as it continues to be pressured into representing all that is superior about the American dream. The Corvette wears one heavy cloak.

So, most of what was talked about has been expertly reported already right here on Autoblog. But, looking through our notes again, both Jeuchter and Lee added facts to the buzzing mix.

In a passing comment regarding the exterior panels of the new Corvette, Jeuchter told us, "Whereas previously the body panels were assembled with a five-millimeter gap between them to account for heat expansion of the fiberglass in hot weather, the fiberglass today on the Stingray maintains a year-round three-millimeter gap." This, no doubt, lends something to the crisp look of the overall design.

For his part developing the 465-pound small-block LT1 V8 – the fifth-generation of the small-block – Mr. Lee points out that even as we lead up to the start of deliveries to customers in August, test mules of the engine are continuing to be refined. That process includes final tuning of the Active Fuel Management cylinder deactivation that turns the LT1 into a 3.1-liter V4 motor during low-load phases, at 3,200 rpm or less. Incorporating AFM in the new Corvette's powertrain required extensive re-engineering... and Lee is a well-known perfectionist. He proudly states: "Average fuel economy should be 26 mpg at least."
---
By Matt Davis
---
See also: Why the Corvette is Chevrolet's billion-dollar baby, Hot Wheels' Twitter-enabled vending machine coughs up free Camaro diecasts, Chevrolet planning low-cost Corvette under Stingray?.