Mercedes to roll out C63 AMG late in 2014 with 4.0L V8
Mon, 30 Dec 2013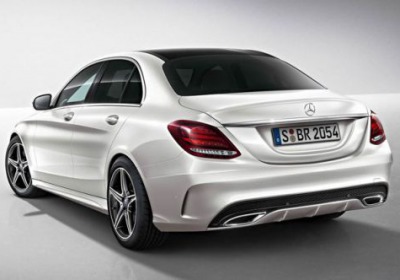 The new 2014 Mercedes-Benz C-Class is upon us, launching initially in North America with turbocharged four-cylinder C300 4Matic and six-cylinder C400 4Matic flavors. But that's only the tip of the proverbial iceberg when it comes to the vast array of powertrain configurations that will be offered in the new C-Class in markets around the world. Orders will soon be rolling in for gasoline, hybrid and diesel engines with four, six or eight cylinders, driving the rear wheels or all four, with the seven-speed automatic transmission soon to be replaced by a new nine-speed unit. But what enthusiasts are really looking forward to is the next C63 AMG.


As BMW has done with the M3 (and new M4), Mercedes has gradually ratcheted up the cylinder count in its AMG C-Class, graduating from the 3.6-liter V6 in the original C36 AMG to the 4.3-liter V8 in the C43 AMG, then the 5.5-liter V8 in the C55 AMG before going the distance with the sublime 6.2-liter V8 in the C63 AMG. Like its rivals, Mercedes is expected to use turbochargers as a replacement for displacement in the next model, but unlike its Bavarian rival, it won't be losing any cylinders in the process.

Skipping the 5.5-liter twin-turbo V8 that has gone on to power other AMG models, the next C63 AMG is still expected to introduce a new 4.0-liter twin-turbo V8 producing between 450 and 500 horsepower. It'll also reportedly keep the same seven-speed automatic transmission (instead of switching to the new nine-speed), but the jury's still out on whether it'll come with rear- or all-wheel drive (or offer buyers the choice). The downsized V8 – codenamed M177 – is then expected to find its way into other models, but the C-Class will be the first to get it when it arrives before the end of the new year ahead.
---
By Noah Joseph
---
See also: Mercedes fits new C-Class with AMG kit, Mercedes teams with Pebble for smartwatch tech, Aston Martin and Mercedes-AMG formalize technical partnership.