Mercedes-Benz CLA45 AMG coming to the New York Auto Show
Tue, 05 Mar 2013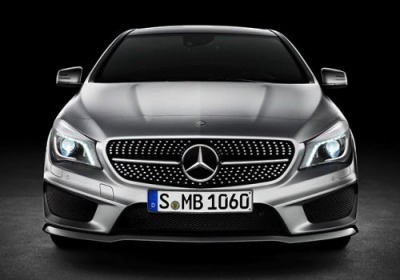 Mercedes-Benz showed off the CLA45 AMG at a private event on the eve of the Geneva Motor Show, but was determined not to let it be photographed. We can talk about it, though – after all, a teaser image was released to promote the new Sony game Drive Club. The CLA45 AMG will use the same powertrain as the A45 AMG, which means a 2.0-liter turbocharged four-cylinder with 360 horsepower and 332 pound-feet of torque. And that means a small four-door coupe sedan with the highest horsepower-per-liter in the segment. It will shift through the same seven-speed dual-clutch transmission, should also run out of speed at 155 miles per hour and have that three-stage stability control system.


As with its hatch sibling, the CLA is already so aggressive on the outside – and the parent company so anxious not to demolish the sedan's 0.22 coefficient of drag – that not much has been done to the cranked-up CLA. Even the rather thin tires on the standard only get a little less thin on the hotter variant. Inside will be the telltale AMG signs, with lots of red detailing and that flat-bottomed wheel among the giveaways. We'll know more later this month when the wraps come off at the New York International Auto Show.
---
By Jonathon Ramsey
---
See also: How could a lifted Mercedes-Benz G63 AMG be more awesome? Add an axle, Brabus to storm Geneva with 800-hp version of Mercedes SL65 AMG, Zetsche's CEO tenure extended through 2016 at Daimler.