Brabus to storm Geneva with 800-hp version of Mercedes SL65 AMG
Wed, 27 Feb 2013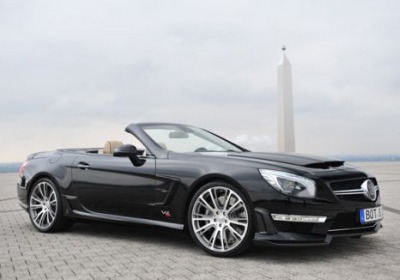 At no point during our recent drive of the 2013 Mercedes-Benz SL65 AMG did we ever think, "You know, this thing sure is slow." After all, Merc's range-topping SL comes fitted with a twin-turbocharged 6.0-liter V12 capable of sending 621 horsepower and 738 pound-feet of torque to the rear wheels. But just in case you're still all "meh" about what the SL65 throws down, Brabus will gladly come to your rescue with this, the 800 Roadster.

As its name suggests, the 800 Roadster ups the V12's power figures to 800 horsepower and – wait for it – 1,047 pound-feet of torque. Don't get too excited, though – that torque number has been electronically limited to a measly 811 lb-ft since, you know, the transmission would probably explode if you tried to put the full force through it. Nevertheless, these represent increases of 79 hp and 73 lb-ft over the standard SL65, and that means the 800 Roadster can shoot to 62 miles per hour in just 3.7 seconds – two-tenths of a second quicker than the Merc its based on. More impressively, hitting 124 mph takes just under 10 seconds, and the droptop will finally top out at an electronically limited – limited! – 217 mph. Holy smokes.

To manage all of that speed, Brabus has engineered a special carbon fiber aero kit that reduces lift, and a unique control module for the SL65's active body control suspension lowers the ride height by one full inch. The 800 Roadster rides on new 20-inch wheels, and a unique limited-slip rear differential was added, featuring a 40 percent locking rate that further enhances performance when you're attempting to control the beast at its limits. Interior upgrades include new leather and alcantara surfaces throughout the cabin, including a leather-clad trunk.

Brabus will be showing off the new 800 Roadster as part of next week's Geneva Motor Show festivities. As for pricing, it hasn't been divulged as of this writing, but it isn't like the standard SL65 is all that attainable, so...

BRABUS 800 Roadster:
World debut at the 2013 Geneva Motor Show

The Mercedes SL 65 AMG with 588 kW / 800 hp of power, 1,420 Nm of torque and a top speed of 350 km/h

BRABUS 800 Roadster – based on the Mercedes SL 65 AMG, BRABUS (Brabus-Allee, D-46240 Bottrop, phone + 49 / (0) 2041 / 777-0, fax + 49 / (0) 2041 / 777 111, Internet www.brabus.com) builds the world's most powerful roadster. The two-seater is powered by a 12-cylinder Biturbo engine uprated by BRABUS T65 RS tuning. It produces 588 kW / 800 hp (788 bhp) of power and a peak torque of 1,420 Nm. A sprint time of 3.7 seconds from rest to 100 km/h (62 mph) and of 9.8 seconds to 200 km/h (124 mph) are impressive testaments to the car's special status that is further bolstered by an electronically limited top speed of 350 km/h (217 mph). The exclusive equipment features also include BRABUS carbon-fiber bodywork components designed for maximum aerodynamic efficiency, custom-tailored BRABUS wheels with diameters up to 20 inches and exclusive options for the cockpit.

BRABUS T65 RS tuning unleashes the latent power reserves of the six-liter V12 engine. To this end, the BRABUS engine professionals have developed a BRABUS high-tech Biturbo system with custom high-performance manifolds that feature integrated turbine housings and high-performance turbochargers. The tuning also includes four water-to-air intercoolers, housed in space provided by the BRABUS carbon-fiber hood scoop. Another custom development for the SL 65 power upgrade is the special BRABUS stainless-steel high-performance exhaust system. It features free-flow metal catalysts and ceramic-coated tailpipes with distinctive BRABUS design. An integrated butterfly valve in the exhaust provides an active sound management on the steering wheel: at the push of a button the driver can chose between a discrete "coming home" and a markedly sporty exhaust note.

The newly calibrated engine electronics complete with high-performance mapping for injection and ignition coordinate the perfect interaction of the high-end components while also ensuring compliance with EURO V emission standards. The high-tech lubricants for the entire powertrain are supplied by technology partner MOTUL.

The BRABUS T65 RS engine produces 588 kW / 800 hp (788 bhp) of power at 5,500 rpm and an even more impressive peak torque of 1,420 Nm (1,047 lb-ft), available from a low 2,100 rpm. In the car, peak torque is limited electronically to 1,100 Nm (811 lb-ft).


In conjunction with the AMG SPEEDSHIFT PLUS 7G-TRONIC transmission, whose gears can be shifted automatically or manually with the BRABUS aluminum shift paddles on the steering wheel, the BRABUS 800 Roadster rises to the become the most powerful of its kind. From rest the sports car weighing in at about two metric tons (2.2 tons) sprints to 100 km/h (62 mph) in just 3.7 seconds. The two-door car reaches a speed of 200 km/h (124 mph) after just 9.8 seconds. Top speed is limited electronically to 350 km/h (217 mph).

To master these enormous speeds at all times, a BRABUS aerodynamic-enhancement kit for the SL 65 was developed in the wind tunnel. All components are manufactured from carbon fibers and are available either with a matt or high-gloss surface finish. It goes without saying; they can also be painted in the car's exterior color.

The BRABUS front spoiler attaches to the lower section of the bumper. It lends the roadster a more sporty appearance and reduces lift on the front axle. BRABUS covers for the side air vents round out the striking front for the SL 65 AMG.

The sides are refined with custom-tailored attachments for the air vents integrated into the front fenders and with rocker panels.

To achieve an optimal aerodynamic balance, the rear section is upgraded with a diffuser insert for the fascia.

As an alternative to the 19-inch stock tires of the SL 65, the BRABUS suspension engineers have developed an exclusive 20-inch high-tech variant. The new BRABUS Monoblock R "Platinum Edition" forged wheel offers the perfect symbiosis of lightweight construction and maximum strength thanks to state-of-the-art manufacturing technology. In addition to the innovative construction, this wheel design also offers unique looks with ten double spokes arranged in two matt titanium and fully polished planes. The front axle is fitted with wheels in size 9Jx20 shod with size 255/30 ZR 20 tires. In the rear, tires in size 305/25 ZR 20 mounted on size 10.5Jx20 wheels transfer the BRABUS 800 Roadster's power of 800 horses to the asphalt. BRABUS recommends high-performance tires from Continental, Pirelli and YOKOHAMA.

To give the two-seater even more agile handling, BRABUS developed a special control module for the ABC suspension of the SL 65 AMG. It lowers the ride height by about 25 millimeters (1.0 inches).

The BRABUS limited-slip rear differential with a locking rate of 40 percent can enhance handling performance further still.

BRABUS adds even more luxury and custom features to the two-seat interior upon request as well. The product portfolio ranges from scuff plates with backlit BRABUS logo and a speedometer with 360-km/h dial (220 mph) to carbon-fiber and wood trim sets in any color imaginable and with a variety of surface finishes.

The company upholstery shop crafts exquisite BRABUS interiors from especially soft yet durable BRABUS Mastik leather and Alcantara. A prime example for the precision craftsmanship is the leather-clad trunk of the show car at the 2013 Geneva Motor Show that features meticulous and precise honeycomb stitching throughout.
---
By Steven J. Ewing
---
See also: Zetsche's CEO tenure extended through 2016 at Daimler, Erebus Motorsport Mercedes E-Class V8 Supercar completes the field [w/videos], Mercedes-Benz S-Class presentation leaked, debuting in May.