Maserati bringing a car that "opens up new frontiers" to Paris
Fri, 07 Sep 2012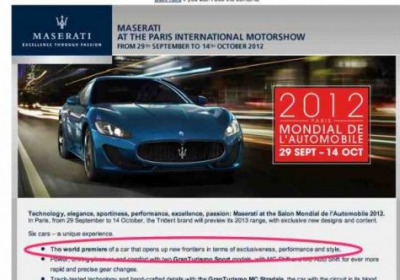 We're not expecting to see a production version of the coming mid-engined Maserati coupe, expected to be named GranSport, for another few years; however, we might see it in concept form in just a few weeks at the Paris Motor Show. Australian site Car Advice got hold of an e-mail Maserati sent to friends of the Trident, and the first of the six cars mentioned is a "world premiere of a car that opens up new frontiers in terms of exclusiveness, performance and style."

Car Advice says it has been told that this will be a concept form of the GranSport, the GranTurismo replacement set to take on the Porsche 911 with ample use of carbon fiber and a 1,200-kilogram (2,600-pound) curb weight or thereabouts. The GranTurismo's 4.7-liter V8 hasn't been ruled out of the engine bay yet according to reports, but rumors persist that it will use the Ferrari-sourced twin-turbo V6 with 442 horsepower running power to the rear wheels through a seven-speed dual-clutch transmission, and have a 0-60 time of something like four seconds.


We can't see the full content of the e-mail, but among the other five cars that have been announced for the stand are the GranTurismo Sport and GranTurismo MC Stradale. With the 2014 Quattroporte not appearing until the 2013 Detroit Auto Show, the Kubang concept said to be retired before the debut of the production version at the 2014 Detroit show and the Levante still just a wee mule, guesses for the three remaining three would be variations on current models. Not that there's anything wrong with that when it's Maserati we're talking about...
---
By Jonathon Ramsey
---
See also: Maserati's sub-Quattroporte sedan spotted testing, 2014 Maserati Quattroporte revealed in patent drawings, Jay Kay's 1955 Maserati A6G/54 on the docket for Pebble Beach.