2014 Maserati Quattroporte revealed in patent drawings
Thu, 12 Jul 2012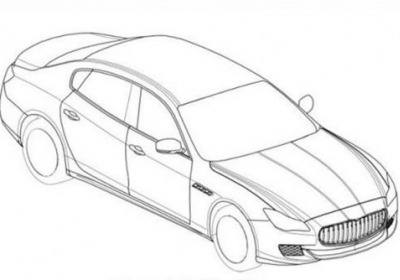 Curious about what the 2014 Maserati Quattroporte will look like? Recent spy shots of the big Maserati sedan haven't been much help, but now we have this: Three alleged patent drawings found by AutoWeek.nl. Better fire up your imagination, however, as like all European Patent Office images, these sketches have the unique ability to suck the beauty out of even Italian cars. Truth be told, if AutoWeek.nl had told us this was a new Buick, we might have believed them.

That said, we can certainly see the resemblance in the rear to the Maserati GranTurismo, with a similar C-pillar and that little flipped-up spoiler. In the front, too, we imagine the new Quattroporte will resemble its sportier sibling, with the crude lines from these drawings turned into more voluptuous curves through the magic of modern manufacturing.


Rumors say the next-gen sedan will be available with a choice of two engines assembled by Ferrari, either a turbocharged V8 or a supercharged V6. We're likely to see the new Quattroporte in the flesh for the first time at the 2013 Detroit Auto Show.
---
By Jeff Sabatini
---
See also: Jay Kay's 1955 Maserati A6G/54 on the docket for Pebble Beach.