Jay Kay's 1955 Maserati A6G/54 on the docket for Pebble Beach
Sat, 26 May 2012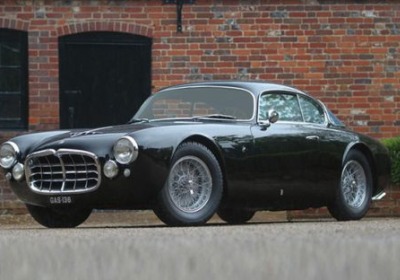 Gooding & Company has revealed the highlights of its consignments for its Pebble Beach auction during the action-packed Monterey weekend. At the top of the list is the classic 1955 Maserati A6G/54 Frua Berlinetta currently owned by Jamiroquai frontman Jay Kay. This Maserati, the show car from the 1955 Paris Auto Salon, features Frau coachwork, won Best in Show at the Salon Privé, and is expected to fetch between $1.5 and 2 million.

No less prestigious is the 1938 Bugatti Type 57C Stelvio convertible that belonged to Prince Louis Napoleon of France, grandson of Emperor Napoleon I and noted Bugatti collector of the time. Supercharged from the factory, the stunning two-tone droptop is projected to sell for $1.3 to 1.6 million.

Finally, an original 1966 Shelby 427 Cobra is on the docket, with pre-sale estimates at $750,000 - $950,000. See below for the full press release and watch this space as the classic car world gears up for Pebble Beach.

Gooding & Company Will Present Jamiroquai's Maserati A6G/54 Berlinetta and
Other Blue Chip Collector Cars at its Annual Pebble Beach Auctions

SANTA MONICA, Calif. (May 23, 2012) – Gooding & Company, the acclaimed auction house celebrated for selling the world's most significant and valuable collector cars, will host its annual Pebble Beach Auctions on August 18th & 19th in association with the prestigious Pebble Beach Concours d'Elegance. Once again, Gooding & Company is poised to present an outstanding array of blue chip and concours-quality collector cars on its record-setting stage, including the elegant 1955 Maserati A6G/54 Frua Berlinetta owned by Grammy Award-winning recording artist Jay Kay, lead singer of Jamiroquai, an outstanding 1966 Shelby 427 Cobra and Prince Louis Napoleon's 1938 Bugatti Type 57C Stelvio. All three of these early consignments represent what today's savviest collectors desire most: authenticity, provenance, beauty and history.

"Our team of experts has a deep understanding of the best, the rarest, the most beautiful and the highest quality cars," says David Gooding, President and founder. "Therefore, we tailor all of our sales, including the Pebble Beach Auction, with exceptional consignments such as the Maserati A6G/54, Bugatti Type 57C and Shelby 427 Cobra to capture the international collecting community of buyers and sellers."

One of Gooding & Company's three annual auctions, the two-day Pebble Beach Auction sets the tone every year for the blue chip collector car market by attracting concours-quality cars of provenance and greatness in one room. Demand for the best was clear last year, when Gooding & Company realized $78 million in unprecedented overall sales with the $16.39 million 1957 Ferrari 250 Testa Rossa Prototype, a world record for a car sold at auction, and the $10.34 million Whittell Coupe Duesenberg, a world record for an American car sold at auction.


1955 Maserati A6G/54 Frua Berlinetta from the collection of Jay Kay of Jamiroquai
A car with little need for introduction, this stunning Maserati A6G/54 debuted in Paris as the 1955 Auto Show car. The Frua bodied Berlinetta with original coachwork has been the longtime property of well-known enthusiast Jay Kay, lead singer of Jamiroquai, the Grammy Award-winning, acid jazz and funk band that has sold more than 40 million albums worldwide. Under his ownership, this Maserati has won Best of Show at Salon Privé and has participated in the Mille Miglia Storica more than once. For the first time, it will be presented at auction in Pebble Beach this August. Its estimate is $1.5 - $2 million.

1966 Shelby 427 Cobra
Carroll Shelby's iconic 427 Cobra is indisputably one of the most recognizable and iconic American sports cars ever created. The 1966 Shelby 427 Cobra that will be offered at the Pebble Beach Auctions is just one of 260 road cars produced. An excellent representation of what collectors look for in an authentic Cobra today, CSX 3216 has a genuine, date-coded 427 FE big block engine and has been extensively restored to its original livery of Wimbledon White over an original, beautifully-patinated, black interior. The car is equipped with a complete file of documentation dating back to its first owner. Its estimate is $750,000 - $950,000.

Prince Louis Napoleon's 1938 Bugatti Type 57C Stelvio
Under the pseudonym Louis De Montfort, Prince Louis Napoleon received this 1938 Bugatti Type 57C Stelvio from Molsheim on May 10, 1938. Grandson of the nephew of Emperor Napoleon I of France, the famous and highly decorated prince favored Bugattis, reputedly having owned close to three dozen in his lifetime, and this genuine, matching-numbers, black and cream Type 57C (supercharged from new) was the last one he purchased before leaving to serve in the war. From new, Napoleon specified that Bugatti add a Cotal gearbox and Houdaille shock absorbers, two rare and significant additions that remain on the car today. Its estimate is $1.3 - $1.6 million.

Gooding & Company's 2012 Pebble Beach Auctions will take place on Saturday and Sunday, August 18 & 19 at the Pebble Beach Equestrian Center, located at the corner of Portola Road and Stevenson Drive. Preview days will start on Wednesday, August 15 continuing through Sunday, August 19. The auctions will commence at 5:00 p.m. on Saturday and 6:00 p.m. on Sunday. Gooding & Company's Pebble Beach Auctions catalogues are available for $100 and admit two to the viewing and the auctions. General admission tickets to the viewing and auctions may be purchased on site for $40. Auctions are broadcast live from Gooding & Company's website. Bidder registration forms, press credentials and additional auction information are also available on http://www.goodingco.com or by calling (310) 899-1960. For additional vehicle information and up-to-the-minute results, follow Gooding & Company on Facebook and Twitter @GoodingCompany.

About Gooding & Company
Gooding & Company, internationally celebrated for its world-class automotive auctions, provides unparalleled service in the collector car market, offering a wide range of services including private and estate sales, appraisals and collection management. In the past two years, Gooding & Company has realized the most prestigious automotive records in the world for a Car Sold at Auction with the iconic 1957 Ferrari 250 Testa Rossa Prototype at $16.39 million, an American Car at Auction with the 1931 Whittell Coupe Duesenberg Model J at $10.34 million, and the undisclosed private treaty sale of the world's Most Valuable Car with the 1936 Bugatti Type 57SC Atlantic. The auction house has realized extraordinary results thus far in 2012 at its annual Scottsdale Auctions in January with more than $39.8 million in sales and 98% sold, and its annual Amelia Island Auction in March with more than $36 million in sales and 91% sold. Renowned for its annual standing as the official auction house for the Pebble Beach Concours d'Elegance, Gooding & Company will return to Pebble Beach, California on August 18 & 19, 2012.
---
By Noah Joseph
---
See also: Bugatti Veyron, Lexus LFA, McLaren MP4-12C and Lambo Aventador in 1/4-mile shootout... who wins?, Volkswagen Group previews its wares on eve of Geneva show, Kit Cat: Mercury Cougar makes perfect Bugatti Veyron substitute.