Leno steals Porsche 918 from The Quail for latest Garage episode
Sat, 31 Aug 2013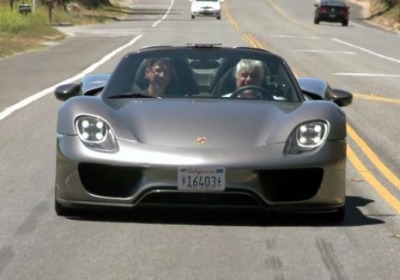 Just because he's a famous celebrity doesn't mean Jay Leno got to take it easy at the Pebble Beach Concours d'Elegance earlier this month. Having already spent some time with the gorgeous Cadillac Elmiraj Concept and Ed Welburn for a recent episode of Jay Leno's Garage, the late night talk show host also got to put a few miles on a prototype version of the Porsche 918 Spyder.


Like a usual episode of JLG, Leno first goes over the details of the car with Frank Walliser, head of the 918 Spyder's development, before taking it out for spin. Check out the full episode, which is posted below, to hear what Walliser has to say about the car. More importantly, though, crank up your computer's volume and let the car's high-revving engine and amazing exhaust note do plenty of talking for itself.



---
By Jeffrey N. Ross
---
See also: Driving the million-mile Porsche 356, Meet the main man behind the 2014 Porsche 911 GT3, 2014 Porsche Cayman S.