How the Ford F-150 SVT Raptor became a reality
Wed, 01 May 2013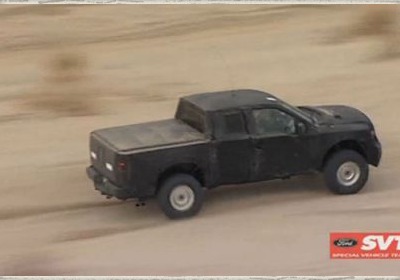 The camouflaged Ford F-150 SVT Raptor prototype captured above blazing its way across the desert during a test run left company engineers giggling in amazement, reveals Jamal Hameedi in a new Autoweek video. Ford's global performance vehicle chief engineer, accompanied by senior exterior designer Bruce Williams, sat down with the publication to discuss the concept and development of the automaker's super off-road F-150.


Designing a high-performance pickup in 2008, right when the cost of gasoline was going through the roof, seemed insane at the time, but the team pushed forward with the innovative vehicle regardless. The interview includes plenty of Ford B-roll footage as visual candy, and the conversations include discussions about exterior design, ride comfort, anti-lock brake tuning, suspension engineering, weight reduction and why it was necessary to make the Raptor visually different than Ford's standard F-150. The model's origin story is very interesting, and you can learn more about it by watching the video below.


---
By Michael Harley
---
See also: Detroit automakers gain market share simultaneously for first time in 20 years, Reborn Ford Escort could make its way to Europe, Ford posts decade-best $2.1B profit in Q1 2013.