Reborn Ford Escort could make its way to Europe
Fri, 26 Apr 2013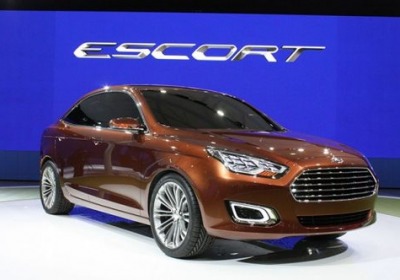 The Ford Escort concept just unveiled at the Shanghai Motor Show was created with the Chinese market in mind, but it's got people talking all over the world. Not purely fancy, the point of the Escort concept was to give Chinese buyers a preview of what they could expect to see in a Ford showroom in the near future. If Ford wasn't seriously considering the new Escort for other countries, a report in Auto Express indicates that the concept's reception has changed all that.


No less than the incoming chairman of Ford UK said "it could work in other places," bolstering the comments of "a senior Ford insider" who said the question of bringing the car to Europe to slot in underneath the Focus had been raised. That's a long way from anything of the kind happening, which would require Ford to figure out how to sell it for the right price and not torpedo the company reputation among Euro buyers. In any case, we'd be as intrigued as anyone if an Escort resurrection created the next 'who knew?' market segment of few-frills transportation offered by non-Asian carmakers.
---
By Jonathon Ramsey
---
See also: Ford posts decade-best $2.1B profit in Q1 2013, Ford could post best-ever profits in Q1 2013, 2014 Ford Fusion order guide reveals new base Hybrid model, equipment changes.