Hear the 2015 Mustang GT V8 roar for the first time
Wed, 26 Jun 2013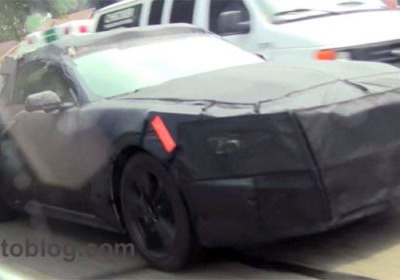 Our combined knowledge of the 2015 Ford Mustang continues to deepen, as spy shooters have begun to compile video and audio of the upcoming sixth-generation car.

Case in point is this latest series of video clips, which not only gives us a great vantage point of the Mustang in motion, but also allows us to hear the Ford V8 engine and exhaust. After perusing the aural delights of this short video, which, admittedly, doesn't catch the Mustang GT at full song, we can at least say that the throaty exhaust isn't disappointing.


Chances are good that the 2015 Mustang GT will debut with some version of the current (and excellent) Coyote 5.0-liter V8 engine, though we're unclear as to whether or not the motor has been massaged for its next-gen debut, or what may have been done to exhaust plumbing. At this point, we're just happy to hear the pony run. Scroll below to hear for yourself.





---
By Seyth Miersma
---
See also: Ford reflects on radical Mustang concept that never reached showrooms, Ford F-150 bumps Camry from top of Cars.com American Made Index, Next Shelby Mustang to wear GT350 nameplate.