GM looks to combat high theft rates on SUVs with added tech
Tue, 24 Dec 2013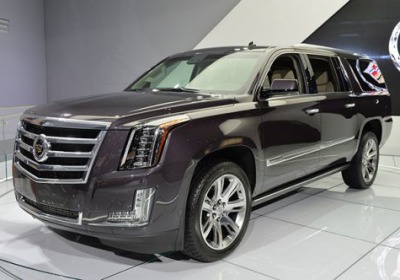 The Cadillac Escalade has been at or near the top of most-stolen and insurance-loss lists for more than seven years, until it dropped to number six earlier this year. In 2011 it was fitted with a host of new security features to address its easy-to-override features and that has brought the number of thefts down, but when eight of the ten most stolen rides are large SUVs from General Motors, no one will argue that something else needs to be done.

Thus, GM has fitted this same theft-deterring tech to the 2015 Suburban, Tahoe and Yukon. The Suburban and Tahoe will get the steering lock that the Escalade and Yukon already get, plus bolted-down third-row seats to deter thefts like this, stronger door lock cylinders and shields, and side-cut keys to inhibit picking.

Additional security measures in a Theft Protection Package can be purchased for $395, consisting of sensors on the greenhouse glass and interior, an incline/tilt sensor and added "key control systems" to make it more difficult for the men in black balaclavas to steal what you bought.

The extra content will be available in the first quarter of next year when the 2015 models get to dealerships. A press release below has more information on what's coming for the Tahoe and Suburban.

Security Top of Mind for 2015 Chevrolet Tahoe
Anti-theft advances and 360 degrees of safety designed for owners' peace of mind

DETROIT, 2013-12-19 – Customers of the 2015 Chevrolet Tahoe will get a vehicle that offers a new level of security and one designed to deter thieves who target vehicle parts.

Thwarting theft was a design focus of Chevrolet's full-size SUVs. New standard features include a steering column lock that deters push-away and tow-away theft – a significant portion of today's stolen vehicle incidents; side cut keys that deter lock picking and more robust door lock cylinders and shields to prevent access with slim jims and other tools.

Also new for 2015: Creative and hidden storage, such as a compartment behind the available infotainment screen; and third-row seats that are bolted down, all but eliminating theft of third-row seats, which are removable in the current generation full-size SUVs. In 2015 models, the second and third rows fold flat to make storing cargo easier.

Available on the Tahoe's LT and LTZ models is a Theft Protection Package, which features glass breakage sensors, interior motion sensors, and an inclination/tilt sensor – all of which sound an alarm if the vehicle is lifted off the ground, attempted to be broken into, or if motion is detected within the vehicle when the alarm is armed. Additional features reinforce key control systems to make it more difficult to start or move the vehicle without an authorized key.


"We have engineered a layered approach to vehicle security," said Bill Biondo, General Motors' Global Vehicle Security lead. "With new standard features and the available theft protection package, we are making the all-new 2015 Tahoe a less attractive target to thieves and more secure for our customers."

If a 2015 Chevrolet Tahoe is stolen, standard OnStar can help. Stolen Vehicle Assistance consisting of Stolen Vehicle Location, Stolen Vehicle Slowdown and Remote Ignition Block all can assist law enforcement in stolen vehicle location and recovery.

360 degrees of safety
Tahoe incorporates new technologies – including radar – that contributes to 360 degrees of crash avoidance and occupant protection. Standard and available features include forward collision alert, front park assist, lane departure warning, lane change assist, rear cross traffic alert and adaptive cruise control.

With lane change assist, the Tahoe's warning aid helps drivers avoid crashes with vehicles in the next lane. Radar technology coverage is one lane over from both side mirrors and extends back approximately 70 meters from the side mirror. An orange vehicle symbol in side mirrors illuminates to alert the driver against changing lanes.

Chevrolet's available Safety Alert Seat offers directional vibrations to alert the driver about potential crash threats. The GM-patented seat allows a driver to better grasp the direction of a potential crash threat than beeping that can compete with other noises in the vehicle.

The Tahoe also offers the segment's only front-seat center air bag, in bucket-seat models. The front-seat center air bag is engineered to provide additional protection for drivers and front passengers in far-side impact crashes, where the affected occupant is on the opposite, non-struck side of the vehicle.

In addition, the all-new Tahoe has more high-strength steel in its frame, providing customers with greater protection in a crash.

"Safety and security are our customers top purchase considerations," said Mark Clawson, Chevrolet Tahoe and Suburban marketing manager. "With all new standard and available safety and security features, we're able to provide 360 degrees of crash avoidance, occupant protection and greater theft protection."

The new 2015 Tahoe and Suburban will be built at GM's Arlington, Texas assembly plant. Both vehicles are scheduled to arrive in dealerships in the first quarter of 2014.

About Chevrolet
Founded in 1911 in Detroit, Chevrolet is now one of the world's largest car brands, doing business in more than 140 countries and selling more than 4.5 million cars and trucks a year. Chevrolet provides customers with fuel-efficient vehicles that feature spirited performance, expressive design, and high quality. More information on Chevrolet models can be found at www.chevrolet.com.
---
By Jonathon Ramsey
---
See also: GMC Canyon will debut in Detroit, Survey says $25k barrier is a problem for EVs, 2015 GMC Yukon and Yukon XL hit the floor at LA.