GM appears to repurpose Saturn Outlook parts on new Acadia
Thu, 09 Feb 2012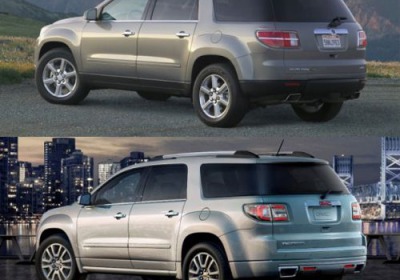 General Motors unveiled the company's refreshed GMC Acadia at the 2012 Chicago Auto Show yesterday, and if you were paying attention, you may have noticed something curious about the vehicle. While the new Acadia looks considerably better than its predecessor, a few components of the design looked more than a little familiar. Upon closer observation, it appears that GM has simply repurposed elements of the now defunct Saturn Outlook crossover on the 2013 Acadia. Both vehicles seem to share the same wrap-around rear glass, back hatch, tail light openings and exaggerated, squared-off fender arches.

While the vehicles are differentiated by badging, tail lamps and a rear valance, there's no denying the similarities toward the vehicle's rear. Up front, both share similar fenders, though adjustments have been made for the varying headlight designs.


That's good news if you just can't imagine life without the Saturn Outlook.

GM isn't the only automaker to pull something similar. Parts sharing is a smart way to keep costs as low as possible, and recouping the design and manufacturing costs the automaker poured into the Outlook is a smart way to keep GM's earnings headed in the right direction. For example, Chrysler famously reused Dodge Grand Caravan tail lights in the first-generation Dodge Durango. We just aren't accustomed to seeing this sort of recycling on such a grand scale or after so much time has elapsed.
---
By Zach Bowman
---
See also: Car thief lands Saturn on Fresno roof, Lutz dishes dirt on GM in latest Autoline Detroit, GM recalling over 243,000 crossovers over possible seat belt defect.