Freak accident during Jeep demonstration turns fatal
Mon, 20 May 2013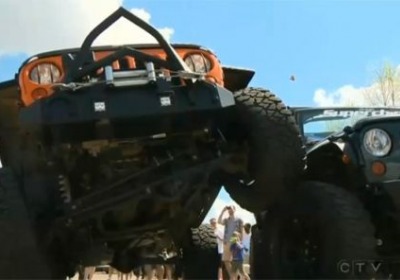 A 20-year-old woman was killed in Edmonton, Canada on Satuday, reports CTV News, in a freak accident resulting from a rollover during a Jeep demonstration. As part of a fundraising enthusiast event called "Jeeps Go Topless," the driver of one Jeep Wrangler drove up and onto the top of the tire of another.


CTV reports that the owner of the topmost Jeep then switched the vehicle off, posed for pictures and then dismounted from his vehicle. His movement off of the Jeep apparently caused it to tip over, crushing a woman who was on top of an adjacent vehicle. Edmonton police are currently investigating more fully what caused the parking lot accident to occur. Scroll below to watch the CTV News video report about this tragic incident.



---
By Seyth Miersma
---
See also: 2014 Jeep Cherokee facing production delay, Millionth Jeep Wrangler JK to roll off line this morning, Watch this 650-hp Hennessey Jeep Grand Cherokee go from 0-60 in 3.9 seconds.