Watch this 650-hp Hennessey Jeep Grand Cherokee go from 0-60 in 3.9 seconds
Tue, 14 May 2013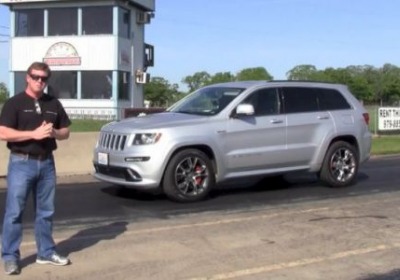 Hennessey Performance Engineering has created an HPE650 package for the Jeep Grand Cherokee SRT fitted with the 6.4-liter Hemi engine. When it leaves the showroom floor it has 470 horsepower and gets from 0-60 miles per hour in 4.8 seconds. When it leaves Hennessey's garage floor after the upgrade it has 650 horsepower – 530 hp at the wheels, according to Hennessey – and gets to 60 mph in 3.9 seconds on its way to running the quarter-mile in 12.6 seconds.


There's more than just a Roots-type supercharger bolt-on, with ported cylinder heads and high-flow headers among the many changes made to the engine. You can watch this pre-2014 facelift silver model prove its spec sheet on the drag strip in the video below.



---
By Jonathon Ramsey
---
See also: Chrysler recalls 468,700 Jeep Grand Cherokees, Commanders over rollaway risk, Happy 50th birthday, Jeep Wagoneer, Chrysler reports $166M net income for Q1, down $307M vs. 2012.