Ford's J Mays feels vindicated by Fusion reception
Tue, 25 Sep 2012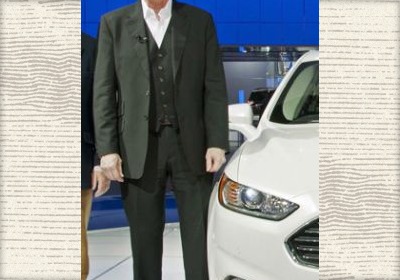 It's hard to think back now, but the same man overseeing the design of the 2013 Ford Fusion also presided over a rather lackluster period in Ford design, highlighted by vehicles like the Five Hundred and Freestyle. With the redesigned Fusion receiving high praise, J Mays tells Automotive News that he feels vindicated from criticisms suggesting he's not a daring enough designer.

When Mays took over as lead of design in 1997, he admits to having quite an ego ("My head would barely fit through the door some days. I've long since gotten over myself") and the workload to match. With the Blue Oval's portfolio full of premium brands like Aston Martin, Jaguar, Land Rover and Volvo at that point, along with the bread-and-butter Ford, Lincoln and Mercury models, Mays certainly had quite the challenge.

It was in the mid-2000s that Mays took over just the premium brands, and took on the new title of Chief Creative Officer. At the time, Mays endured some criticism for looking backwards to retro styling, rather than setting a new standard for American car design – criticism that Mays says he is free from with the all-new Fusion.


It's also significant to point out the big names in car design came through the doors of Ford's design house under Mays. Names like Ian Callum (now of Jaguar), and Henrik Fisker, who was then at Aston Martin but has now gone on to start his own carmaker.

Mays, who spent time at BMW, Audi and Volkswagen told AN that American carmakers don't have to imitate Europe's luxury automakers to provide premium products (perhaps a bit ironic considering that even cheerleaders of the sedan admit the new Fusion has an awful lot of Aston Martin design language up front). While the Fusion has been well–received, Mays still has his hands full trying to maintain the "One Ford" global design language, matching that up with truck design, and finding an identity for Lincoln. All we can say is, it ain't easy being J Mays.
---
By George Kennedy
---
See also: The Windsor Castle Concours d'Elegance in pictures, courtesy of Bentley, These cars are headed to the Great Crusher In The Sky, 2012 Pebble Beach Concept Car Lawn offers a tutorial in cars to come.