Ford's Explorer-based Police Interceptor to get 365-hp EcoBoost option
Tue, 20 Aug 2013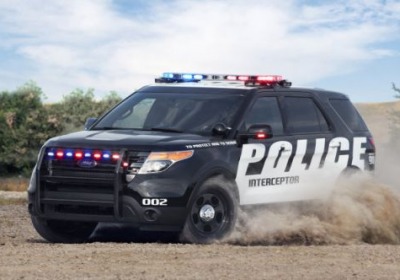 Speeders beware, the police are going to be getting quite a bit faster. Ford has just announced that it will be offering its 3.5-liter, twin-turbocharged, EcoBoost V6 in the Explorer Police Interceptor. The new engine will be joining the existing 3.7-liter V6. The 365-horsepower, 350-pound-foot mill should be familiar to consumers as the powerplant that's found in the Ford Taurus SHO (and its LEO equivalent, the Taurus Police Interceptor) and the Ford Explorer Sport. It should also provide quite a kick in the pants to officers used to the naturally aspirated 3.7 and its 304 ponies and 279 pound-feet of torque.

The move to the more potent powerplant was born out of all the equipment officers need to carry on a day-to-day basis. These days, there's so much stuff that police need on a regular basis, that there's a genuine market for a faster Police Interceptor Utility, as it's known officially. The Explorer-based cruiser has already accounted for 68 percent of Ford's LEO sales in 2013, and that's with just the 3.7, and we'd only expect that number to increase once the twin-turbo, 3.5-liter V6 is available. Ford won't offer up any indication of what the take rate will be on the new engine, but we're guessing it'll be fairly high.

The success of the Explorer PI couldn't have come at a better time for Ford. The decision to end Crown Victoria production was not a popular one with police, and combined with Chevrolet and Dodge diving into the LEO market feet first, Ford hasn't been performing as well as it's wanted to. The Explorer has been helping it turn around, though. And with the inclusion of the EcoBoost, Ford also has a legit competitor for the Chevrolet Tahoe on the big utility side of the police market.

Hot-Selling Ford Police Interceptor Utility Vehicle Now Offers 365-Horsepower EcoBoost Engine

Ford adds 3.5-liter EcoBoost® utility vehicle model to Police Interceptor lineup to provide best-in-class horsepower and torque for police agencies

Since launch of the new Ford Police Interceptor products in 2012, the utility model accounts for half of the company's police vehicle sales

DEARBORN, Mich., Aug. 20, 2013 – Ford today announced police agencies will soon be able to order a Ford Police Interceptor utility vehicle with the 365-horsepower 3.5-liter EcoBoost® V6.

The engine, which delivers 350 lb.-ft. of torque, has been available in a variety of Ford vehicles, including the Police Interceptor sedan, and is the choice for more than 40 percent of Ford F-150 truck buyers.

"We continue to look at ways we can offer our customers additional product enhancements to further meet their unique needs," said Gerry Koss, Ford fleet marketing manager. "Our Police Advisory Board and customers across the country identified the EcoBoost engine as their No. 1 want in the Police Interceptor utility vehicle."


Agencies often need to outfit vehicles with an increasing amount of equipment, but still require first-responder, pursuit-capable performance and handling; the new Ford Police Interceptor utility vehicle is designed to meet these requirements.

"With the Police Interceptor utility vehicle representing half of our police orders, it is evident our two-vehicle strategy was on target," said Koss. "Our engineering team designed this vehicle specifically for the police market."

The Police Interceptor utility has received very positive feedback from law enforcement agencies, including the performance of the standard 3.7-liter Ti-VCT V6 engine, which delivers 304 horsepower and 279 lb.-ft. of torque, said Bill Gubing, chief engineer for Police Interceptor.

Gubing cited recently released results of Los Angeles County Sheriff's Department testing and evaluation of 2013 model year vehicles, which show Ford's Police Interceptor utility vehicle swept all categories, including acceleration, braking, 32-lap high-speed and pursuit versus the Chevrolet Tahoe equipped with a 5.3-liter V8 engine.

"The 3.5-liter EcoBoost will offer best-in-class performance and top-notch fuel economy," said Gubing. "That means law enforcement agencies that require this level of capability won't have to compromise.

"It also complements our strategy of offering a choice of either sedan or utility vehicle based on a common platform, and sharing a large amount of common components, including powertrains, brakes, wheels/tires, seats and maintenance items," Gubing added.

Lt. Charlie Powell, commander of fleet operations for Nevada Highway Patrol, said Ford "has made a good vehicle even more impressive" with the addition of the EcoBoost engine for the Police Interceptor utility vehicle. "This is good news," he said. "We at Nevada Highway Patrol look forward to putting this platform in the field as soon as practical."

Ford's Police Interceptor engine strategy provides a V6 lineup that outperforms V8 engines of years past. The Police Interceptor sedan is available with three powertrain options – a 3.5-liter V6 with front-wheel drive, 3.7-liter V6 with all-wheel drive and the powerhouse 3.5-liter V6 EcoBoost engine with all-wheel drive – allowing police to choose the powerplant that best meets their patrol requirements.

For more information on Ford Police Interceptor, visit www.FordPoliceInterceptor.com.
---
By Brandon Turkus
---
See also: Ford profits soar as problems mount, XCAR stages epic drag race between Ford GT40, GT70 and GT, Oprah at it again, gives car away on Jimmy Kimmel Live!.