XCAR stages epic drag race between Ford GT40, GT70 and GT
Mon, 19 Aug 2013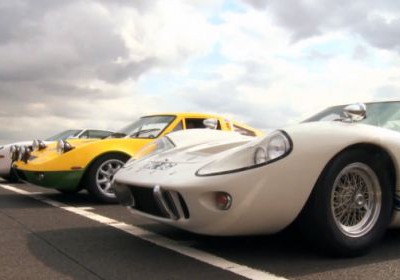 XCAR has put together what it believes is a first – a drag race between Ford's legendary, Le Mans-winning GT40, the more recent GT supercar it inspired and the little-known GT70 rally car. The three mid-engined monsters were all built for very different purposes, and not surprisingly, they come to battle with very different powertrains.

The GT40 is powered by a thumping, naturally aspirated V8. This example, which looks like a Mark IV model, is likely powered by a 7.0-liter engine, although it's not entirely clear how much power it's putting down. The GT70, meanwhile, was Ford's response to the Lancia Stratos. Considering that the Lancia is one of the greatest rally cars in history and many of you are probably just hearing of the GT70 for the first time, you can imagine how much success Ford had with it. Only six were produced before a change in regulations doomed this mid-engined rally car.


The Ford GT, meanwhile, doesn't really need an introduction. 550 horsepower is on offer from a 5.4-liter, supercharged V8, which keeps the GT competitive even against more modern supercars. 60 miles per hour arrives in well under four seconds while the top speed sits at 212 mph. Not bad for a car that went out of production in 2006.

XCAR tried to conduct the proceedings as fairly as possible. There'd be a one-run drag race, although as they're on the front straight of circuit and not an actual drag strip or air field, it's difficult to discern just how far they're running. Still, the results shouldn't be an enormous surprise. Take a look at the full video below.



---
By Brandon Turkus
---
See also: Oprah at it again, gives car away on Jimmy Kimmel Live!, 2014 Saleen George Follmer Edition Mustang debuts at Lagun Seca, Galpin Ford GTR1 supercar debuts in Monterey.