Oprah at it again, gives car away on Jimmy Kimmel Live!
Sat, 17 Aug 2013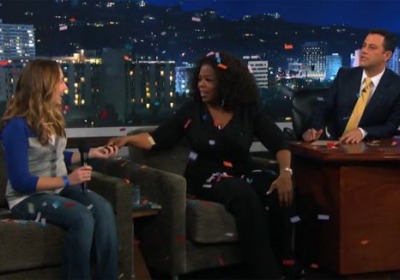 Oprah Winfrey loves giving away cars. Not only has she given Pontiac G6 sedans and Volkswagen Beetle retro-mobiles to everyone in the audience of her past show, but the other night on Jimmy Kimmel Live! she gave another car away to one lucky audience member, while yelling her now-famous line: "You get a car!"

Although the acting of Oprah and Jimmy Kimmel was obviously staged for this giveaway, the reaction from the woman in the audience was genuine shock as she found out that she had just won a new Ford Fusion Energi. Congrats!


Not to take away from what Oprah and Jimmy pulled off, but our cynical sides have to wonder if there isn't more than just a little coincidence that this giveaway took place on the same day that Ford announced a fuel economy reduction for the C-Max hybrid. You be the judge... Scroll down to watch the short clip from the episode.



---
By Jeffrey N. Ross
---
See also: 2014 Saleen George Follmer Edition Mustang debuts at Lagun Seca, Galpin Ford GTR1 supercar debuts in Monterey, Next Ford Mustang to drop 400 pounds.