Dodge vs. Chevy tug-of-war taken to the extreme
Mon, 17 Dec 2012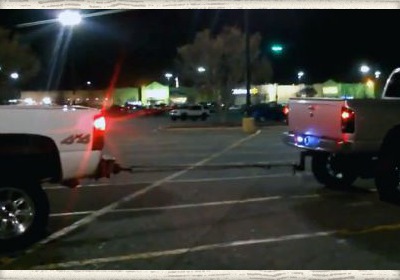 They say "idle hands are the devil's playground," but said playgrounds grow to Disney-sized proportions when a pair of jacked-up trucks, two egos, a chain and an empty mall parking lot are involved. Proof of this is the video below, which shows a Cummins-powered Dodge Ram circa 2006 to 2008 chained tail-to-tail with what looks to be a gasoline-powered Chevrolet Silverado from the late 1990s or early 2000s.

We don't necessarily have to tell you who wins this battle, but we'll let you see for yourself the lengths the "winning" driver goes to prove his point. There's plenty of foul language in the video below, so beware that this might be Not Safe For Work, and not that we should have to tell you, but please, do not try this at home.



---
By Jeffrey N. Ross
---
See also: Automakers score 8 out of top 20 most-watched ads on YouTube [w/videos], Pics Aplenty: Meet the 2014 Chevrolet Silverado and GMC Sierra [w/poll], 2014 Chevrolet Silverado and GMC Sierra debut all-new designs, three new engines.