Pics Aplenty: Meet the 2014 Chevrolet Silverado and GMC Sierra [w/poll]
Thu, 13 Dec 2012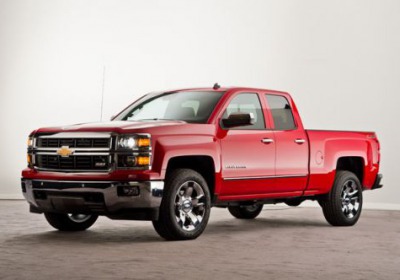 Today was a pretty big day for General Motors, debuting the all-new Chevrolet Silverado and GMC Sierra light-duty pickup trucks ahead of their official showcase at the 2013 Detroit Auto Show. And now that the dust has settled at GM's big reveal event, we've had a chance to snap dozens of photos of the new pickup pair from every angle.

We already told you the important bits earlier today (click here in case you missed it), but let's recap. Under the hood are three new engines – a 4.3-liter V6, 5.3-liter V8 and 6.2-liter V8 (you know, a version of the small-block that'll also be found under the hood of the C7 Corvette), all mated to six-speed automatic transmissions. The 2014 model year marks the return of the Z71 off-road package with Rancho shocks, front tow hooks and beefier underbody protection. Inside, there's a host of new technology and a greater focus on better quality and refinement.

Some of the nitty-gritty specifics (like engine output numbers and fuel economy) have yet to be revealed, and since we haven't driven the finished products yet, it's hard to say how these trucks will fare against rivals like the Ram 1500 and Ford F-150. For now, we can only judge these two books by their covers, and while we do like the designs of the new trucks, we Autoblog staffers are torn on exactly which one looks best.

That's where you come into play. Click through the attached high-res image galleries of live photos and let us know in the poll below which truck you think looks the best. Feel free to explain your reasoning in the Comments, as well.


Which truck do you think looks better?

| | |
| --- | --- |
| 2014 Chevrolet Silverado | 3301 (28.1%) |
| 2014 GMC Sierra | 8446 (71.9%) |
---
By Steven J. Ewing
---
See also: 2014 Chevrolet Silverado and GMC Sierra debut all-new designs, three new engines, 2014 Chevrolet Silverado and GMC Sierra debut all-new designs, three new engines, Watch the live reveal of the 2014 Chevy Silverado and GMC Sierra [UPDATE].