Dodge to reveal Hellcat-powered Challenger in Detroit?
Fri, 10 Jan 2014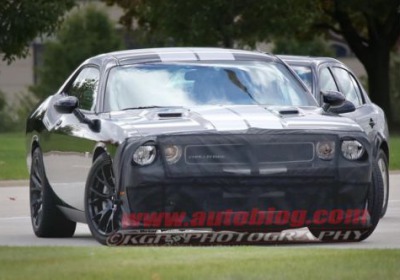 On top of all the other performance car debuts slated for next week's Detroit Auto Show, we might be able to add one more to the list – the new, supercharged Hellcat V8 from Chrysler. According to new reports, the rumored 640-horsepower mill is likely to cross the Motor City stage in the engine bay of a Dodge Challenger.

As AllPar points out, though, there may be more news than just the fire-breathing engine. While we've seen spy photos of the Hellcat testing under the hood of the current Challenger, there's a very fair chance that it won't arrive until the muscle car is refreshed later this year. The question now is whether that refresh will be shown off alongside the new engine in Detroit, or if it'll be saved, perhaps for the New York Auto Show.


Other details dug up by AllPar include potential transmissions for the supercharged engine – the Mopar-minded site is expecting an eight-speed automatic or a Tremec six-speed manual. Prices, meanwhile, could be in the same elevated range as the Chevrolet Camaro Z/28, at $70,000 to $80,000.

A report from Motor Trend, meanwhile, is claiming that the new engine will be a 6.2-liter V8, rather than a 6.4 as suggested by Allpar, and it claims the new car will simply be called Challenger SRT Hellcat. MT also reports that, while the Challenger, Charger and Chrysler 300 all ride on the same platform, it's likely only the Dodge-branded cars will get the new powertrain, leaving the 300 hanging out to dry.
---
By Brandon Turkus
---
See also: Watch this Dodge Viper get clawed to death, 2014 Dodge Dart Blacktop hits the pavement ahead of Detroit, Chrysler patents smarter minivan folding seats.