Chrysler patents smarter minivan folding seats
Thu, 02 Jan 2014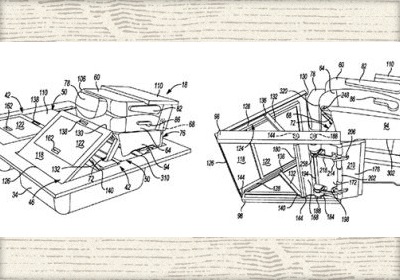 It's frightening to think of how quickly the mice would have overtaken us if we hadn't stayed one step ahead of them with better mousetraps. We'll never have to worry about that in our relentlessly re-engineered world, though. Case in point: Chrysler has been granted a patent by the US Patent and Trademark Office for an improved design of the already wondrous Stow 'n' Go seating found in the automaker's Town and Country and Dodge Grand Caravan minivans.


Introduced in 2005, the Stow 'n' Go was improved in 2008, and based on the drawings of this third-generation improvement, the new design appears to allow stowage of the second row of seats without having to move the front-row seats forward as much. It look like it also involves fewer operations and moving parts, with a portion of the seatback being incorporated into the flat floor when the seats are stowed, as opposed to having a completely separate cover.

It's possible that the innovation may appear on the next-generation minivans expected in 2015, but Chrysler isn't commenting on the patent.
---
By Jonathon Ramsey
---
See also: Fiat stock rockets up after word of Chrysler deal, Fiat buying rest of Chrysler in $4.35 billion deal, IPO avoided, Roadkill builds crazy-cheap 1968 Dodge Charger rat rod using an old motorhome.