Diesel Power finds the ultimate modified oil-burner
Sat, 24 Aug 2013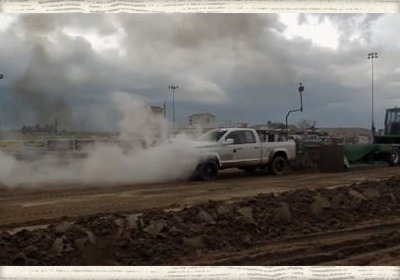 For nine years, Diesel Power magazine has run the Diesel Power Challenge, this year's grindfest being "a week-long torture test that features seven events, nine trucks, 8,000 horsepower, and nearly 15,000 pound-feet of torque." The road to being crowned "the most powerful truck" starts with a dyno run, and then continues through the completion of a CDL-style obstacle course, an eighth-of-a-mile drag race while towing a 10,000-pound trailer, a quarter-mile drag race without a trailer, a fuel economy test in the mountains and finally a sled-pulling test through a 300-foot-long packed-mud pit.

What kind of trucks get into such a fight? Last year's winner, for instance - who upgraded his truck this year to prove he didn't "luck into the win" - drives a 2008 Ford F-250 Super Duty with a 6.4-liter Power Stroke V8 upgraded with a custom intake, Elite Diesel triple turbos and a two-stage nitrous system. Another competitor has a 2005 Dodge Ram 2500 powered by a 5.9-liter Cummins inline-six, upgraded with Garrett turbos, dual-stage nitrous, a seven-inch exhaust stack and twin fans built into the bed to cool the Sun Coast Omega transmission. The numbers on that truck: 1,255 horsepower, and 2,063 pound-feet of torque at the wheels. Naturally, as the image above might suggest, things don't always end well.

You'll find all five videos covering this years challenge below. A scene in the dyno video sums it all up perfectly: a competitor leaves his nitrous on too long and the crew is treated to some ominous poppings, he leans out the window, throws both hands up and shouts, "Amer'ca!"

















---
By Jonathon Ramsey
---
See also: Introducing the 1965 Ford Mustang, Court puts kibosh on apartheid lawsuit against Ford, Daimler, Crowdsource funding push on to save historic Ford buildings.