Consumer Reports criticizes small turbo engines for misleading performance, fuel economy claims [w/video]
Tue, 05 Feb 2013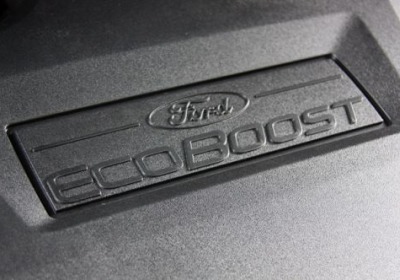 Consumer Reports has taken aim at at small-displacement, forced-induction engines, saying the powerplants don't manage to deliver on automaker fuel economy claims. Manufacturers have long held that smaller, turbocharged engines pack all power of their larger displacement cousins with significantly better fuel economy, but the research organization says that despite scoring high EPA economy numbers, the engines are no better than conventional drivetrains in both categories. Jake Fisher, director of automotive testing for Consumer Reports, says the forced induction options "are often slower and less fuel efficient than larger four and six-cylinder engines."

Specifically, CR calls out the new Ford Fusion equipped with the automaker's Ecoboost 1.6-liter four-cylinder engine. The institute's researchers found the engine, which is a $795 option over the base 2.5-liter four-cylinder, fails to match competitors in acceleration and served up 25 miles per gallon in testing, putting the sedan dead last among other midsize options.

The Chevrolet Cruze, Hyundai Sonata Turbo and Ford Escape 2.0T all got dinged for the same troubles, though Consumer Reports has found the turbo 2.0-liter four-cylinder in the BMW 328i does deliver on its promises. You can check out the full press release below. You can also read the full study on the Consumer Reports site, or scroll down for a short video recap.



CONSUMER REPORTS TESTS FIND MANY SMALL TURBO ENGINES FALL SHORT ON FUEL ECONOMY PROMISES

Fuel Economy, Acceleration No Better than in Conventional Powertrains

YONKERS, NY - Although small turbocharged engines are marketed as delivering the power of a large engine, with the fuel economy of a smaller one, Consumer Reports tests have found that they often fall short of expectations. Many turbocharged cars tested by CR have slower acceleration and no better fuel economy than the models with bigger conventional engines.

"While these engines may look better on paper with impressive EPA numbers, in reality they are often slower and less fuel efficient than larger four and six-cylinder engines," said Jake Fisher, director of automotive testing for Consumer Reports.


The full report can be found online at ConsumerReports.org.

Consumer Reports tests many cars with small, turbocharged engines, and lots of competitors with traditional, naturally aspirated engines, big and small. Based on the EPA fuel-economy estimates, which are calculated based on laboratory tests, some of these cars' turbocharged engines look better. But CR's engineers found those results don't always translate to the real world driving and in Consumer Reports' own fuel economy tests.

The latest example of underperforming small turbocharged engines is the collection of 2013 Ford Fusions with EcoBoost engines - small, turbocharged four-cylinders with direct injection -which were recently tested by Consumer Reports. The smaller engine - a 1.6-liter producing 173 hp - is a $795 option over the basic conventional 2.5-liter Four on Fusion SE models. But that car's 0-60 mph acceleration time trails competitive family sedans, and it delivers just 25 mpg, placing it among the worst of the crop of recently-redesigned family sedans.

The most direct comparison among the vehicles Consumer Reports has tested is the Chevrolet Cruze. CR tested both a Cruze with the base 1.8-liter conventional four-cylinder, and one with the smaller 1.4-liter turbocharged Four. While the 1.4-liter feels marginally more powerful in daily driving, it was barely faster to 60 mph, and got the same fuel economy as the larger engine.

The Hyundai Sonata Turbo, Kia Sportage Turbo, and Ford Escape 2.0T are examples of cars with turbocharged 4 cylinder engines that are less fuel efficient than V6 models in the same class, Consumer Reports found.

Consumer Reports has also found some turbocharged four-cylinder models that do deliver good fuel economy and acceleration: BMW's new 2.0-liter turbocharged four gets 28 mpg in the new 328i Sedan and delivered improved mileage in the 2012 X3 SUV by one mpg, with essentially identical power and acceleration. Volkswagens using that company's 2.0-liter turbo also return impressive mileage, though CR hasn't tested any model variations with other engines that are directly comparable.

Consumer Reports notes that turbochargers pump extra air into the engine to deliver more power. But gasoline engines have to be operated at a very specific air-to-fuel ratio. So this extra air has to be augmented with extra fuel, which may offset any savings from shrinking engine sizes.

Consumer Reports is the world's largest independent product-testing organization. Using its more than 50 labs, auto test center, and survey research center, the nonprofit rates thousands of products and services annually. Founded in 1936, Consumer Reports has over 8 million subscribers to its magazine, website and other publications. Its advocacy division, Consumers Union, works for health reform, product safety, financial reform, and other consumer issues in Washington, D.C., the states, and in the marketplace.
---
By Zach Bowman
---
See also: New Bright creating exclusive 1:8 scale radio-controlled C7 Corvette, Submit your questions for Autoblog Podcast #319 LIVE!, GM recalls 8,500 Chevrolet Malibu models for rear suspension glitch.