Chevy Corvette Stingray "colorizer" lets you chase the rainbow
Thu, 14 Feb 2013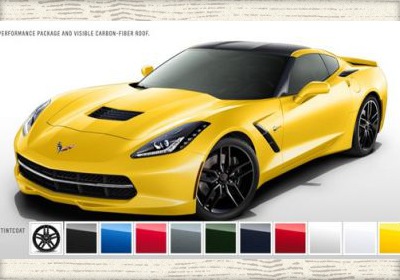 After you've convinced your better half to let you buy a new Corvette, then comes the hard part... actually figuring out which 'Vette you want. While Chevrolet has yet to release the official configurator for the 2014 Corvette Stingray, it did give us something else to kill some time playing around with.


The C7 Corvette "colorizer" recently went online, and it lets you look at the car in all of its available colors and wheel options from four different angles so that when this car does go on sale, you know exactly which one you want. It includes the Corvette's full pallet of colors including Torch Red, Laguna Blue and the hue you see above, Velocity Yellow. Toss in the black wheels, and we're sold. If you have some time this afternoon, be sure to check it out the Corvette colorizer for yourself, and even if you don't have the time, we've put together a gallery with all of the possible color combinations.
---
By Jeffrey N. Ross
---
See also: Use this PowerPoint when convincing your spouse to let you buy a Corvette, Chevrolet SS previewed by Holden VF Commodore SS V show car, Next-gen Chevy Cruze caught cruising in the cold.