AM General to offer civilian Humvee kit car
Thu, 02 Aug 2012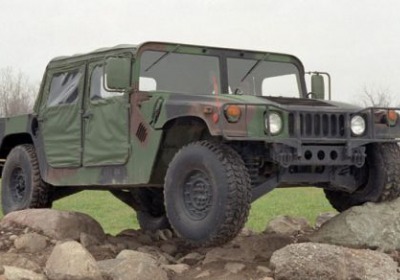 For anyone feeling nostalgic about the passing of the Hummer brand, or the actual wartime vehicle that inspired it, now is your chance to own a version of the original HMMWV, albeit without an engine.

After a 12-year hiatus from the civilian vehicle market, AM General is reportedly set to offer a kit-car of the C-Series Humvee. The kit will conform to U.S. government regulations and has been made possible by a deal with General Motors.

The kit costs $59,000 – and you still need an engine. A likely favorite would be a Duramax Diesel V8 and Allison transmission combination, as was found on the H1 Alpha. AM General estimates that an owner could buy the kit Humvee and outfit a powerplant and transmission for $75,000. Not bad, considering that H1 Alpha has an MSRP of $140,000 in 2005.

How is this possible? If you recall, GM was trying to unload the Hummer brand to Chinese-based Sichuan-Tengzhong, among other suitors. As we all know, a deal never happened and the brand rumbled off into the sunset. The deal with AM General worked so that the military Humvee producer could offer a vehicle to the public as long as it was fundamentally different from the H1. By offering a kit car, they apparently end-around much of the legal confines.

But that also means are other setbacks. The final product will not look like the civilian Hummer H1, and it will not have niceties like interior trim, power locks, door mounted mirrors, or even hard doors. It will simply be a four-seat, soft-top, soft door vehicle. AM General will offer 'add-on' factory options such as the Central Tire Inflation System, rocker protection, and potentially two-piece beadlock wheels.

As the story over at Hummer Guy puts it, "just remember – its a Humvee, not a Hummer."
---
By George Kennedy
---
See also: Automakers tussle over owners of 'orphan' makes, Humvee reborn on the battlefield... with a chimney?!, Architects design home made entirely of Hummers.