2015 Ford Mustang potentially 'leaked' by Car and Driver
Mon, 28 Oct 2013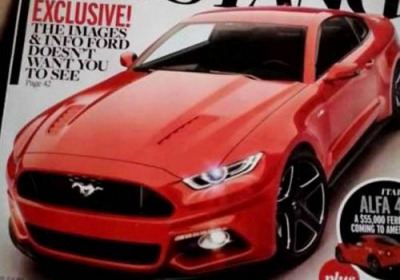 Few upcoming debuts have been as eagerly anticipated as the all-new Ford Mustang that's expected to debut shortly as the Mustang's 50th anniversary year approaches. Well, Car and Driver magazine would have us wait no longer as it claims to be leaking Ford's new global pony car early.

Of course what you're looking at is just as likely to be a composite rendering based on what C/D projects the new Mustang to look like, but to our eyes it looks spot on. Combining design traits from the Evos Concept with classic Mustang signatures and Ford's Aston-inspired grille treatment, C/D's images – including a complete 360-degree digital navigator – show a Mustang not only for the modern era, but also for global distribution, taking a quintessentially American car to markets its predecessors were never designed for.


Those global considerations are expected to spell the demise of the outgoing Mustang's holdout live rear axle in favor of an independent suspension, and a slight constricting of the exterior dimensions. And thanks to a separate leak, coming from a digital survey, we have apparent confirmation of what will power the new pony car. While the existing 3.7-liter V6 and 5.0-liter V8 engines will apparently carry over with only slight adjustments in output, the survey confirms a new 2.4-liter turbo four will be positioned in between them, offering slightly more power than the V6 but markedly improved fuel economy for a manageable $560 premium over base.

Car and Driver reports that Ford could replace the base V6 with the 3.5-liter EcoBoost from the Taurus SHO, slot the current supercharged 5.8 into the new GT500 and an all-new twin-turbo V8 into a new GT350. The successor to the Boss 302, however, could go with the new engine or stick with the previous one. We'll have to wait a little longer, but hopefully not much, to see how this all plays out. In the meantime you can head over to C/D to delve into their project details and play around with the virtual navigator.
---
By Noah Joseph
---
See also: Ford settles class action suit over defective Navistar diesel engines, Ford trademarking 'Mach 1,' possibly for Mustang, Ford posts record pre-tax Q3 profit of $2.6B.