Ford trademarking 'Mach 1,' possibly for Mustang
Thu, 24 Oct 2013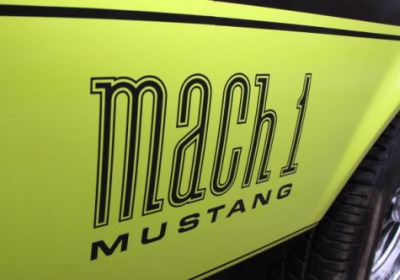 A legendary name might be accompanying the redesigned, 2015 Mustang when it finally makes its world debut - Mach 1. Stumbled upon by the team at Ford Authority, the Mach 1 title was found in a trademark filing with the US Patent and Trademark Office, and would revive a name last used on the fourth-generation, 2003 Mustang.

While the the 2003 vintage was well and good, the Mach 1 is really remembered for a three-year run from 1969 to 1971 - it's best to just forget the emissions-choked 1972 to 1978 Mach 1s - when power output ranged from a modest 250 horsepower with the two-barrel, 351-cubic-inch Windsor V8 to "375 hp" (actual output was rumored to be well north of 400 horsepower) with the righteous, 429-cubic-inch Super Cobra Jet V8.


What does the title hold for the sixth-generation Mustang? It's tough to say. The fanatics at Ford Authority seem to think Mach 1 could take the place of the Shelby GT500 at the top of the Mustang hierarchy, which sounds like a valid argument. At the same time, we could see the SVT Cobra moniker returning for the flagship model, and the Mach 1 doing battle with the Chevrolet Camaro Z/28 (unless the Boss 302 were to return). Confounding things is the historical precedent - the Mach 1 was responsible for the death of the Mustang GT in 1969, so it might make sense as a volume performance model.

While we can speculate until we're blue in the face, the only thing we know for certain is that all should be revealed when the Mustang finally debuts in December. Until then, let us know where the Mach 1 would be of the most use in the Mustang lineup by having your say in Comments.
---
By Brandon Turkus
---
See also: Ford posts record pre-tax Q3 profit of $2.6B, Ford gets colorful with Mustang anniversary infographic, Martini Mustang is a 'what if moment' gone right.