2015 Chevrolet Cruze spied on its home turf
Tue, 23 Apr 2013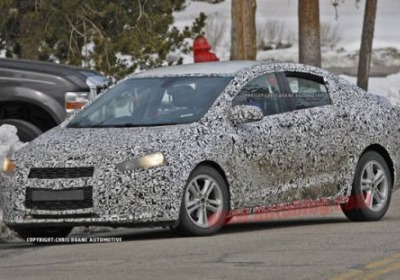 The next Chevrolet Cruze isn't set to go into production for about another year, and we're just now seeing prototypes of the new compact running around here in the States. Not much more has been revealed since we saw the car blasting through the snow in Europe, but we can still clearly see new design elements like the larger grille, slimmer headlamps and redesigned taillamps.


Our spy photographers worked up a composite image of this Cruze prototype alongside the current model, and here, we can clearly see some big visual changes are in store for the new model. The 2015 Cruze's hood slopes downward more dramatically, the windshield is more heavily raked, and the roofline looks more fluid overall. The next-generation Cruze will ride on the new global Delta platform that will also underpin other General Motors vehicles like the Chevrolet Volt and Equinox.

As for what's under the hood, we expect the normal range of gasoline four-cylinder engines (both naturally aspirated and turbocharged), and the compact's new turbodiesel four should carry over, as well. Have a look at the full brace of spy photos in the gallery above.
---
By Steven J. Ewing
---
See also: 2014 Chevy Corvette Stingray order guide hits the web, Corvette Stingray designer lists five goals of new exterior shape, GM warning 800,000 owners that their cars may need oil changes more frequently than they say.