2014 Chevy Silverado High Country spied wearing trappings of new luxury trim
Wed, 03 Apr 2013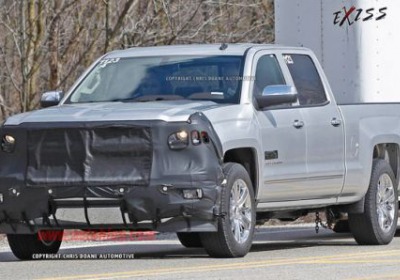 Spy photographers have spotted the new Chevrolet Silverado High Country and GMC Sierra Denali out on public streets for a little testing. From the looks of things, the Silverado will receive a much-differentiated front fascia along with special badges and those honking 20-inch chrome wheels. Expect to find a more posh interior as well. Likewise, the Sierra Denali will wear a tweaked nose with the familiar Denali bling. The one of the GMC trucks spotted here rolls on 21-inch gunmetal wheels instead of the 20-inch chrome pieces of the High Country.


Word has it both trucks will go on sale after the Texas State Fair this summer. While General Motors hasn't said for certain what we can expect to find under the hood, we'd be surprised to see anything outside of the range of engines found in the standard Silverado and Sierra models. That means buyers should be able to get their hands on the efficient, 23-miles per gallon 5.3-liter V8.
---
By Zach Bowman
---
See also: Autoblog Podcast #327, Fewer than 1 in 3 Chevy dealers earn right to initially sell C7 Corvette, 2014 Chevy Silverado priced from *$24,585, V8 gets better economy than Ford EcoBoost V6.