2014 Chevrolet Malibu gets more torque, more room and inspiration from the Impala
Fri, 31 May 2013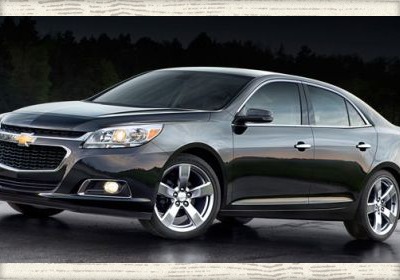 The 2014 Chevrolet Malibu, having stared at the Impala across the showroom floor for a year, gets nips and tucks all over inspired by its larger brother. The 2.5-liter four-cylinder in the base car will get a stop-start system and 23 city miles per gallon, 35 highway, each number representing a one-mpg improvement over the 2013 car. Output is 196 horsepower and 186 pound-feet of torque.

Opt for the 2.0-liter turbo and, while power holds steady at 259 hp, torque goes up by 14 percent to a striking 295 lb-ft (a figure Chevy calls best in the class). The final details include newly programmed transmission shift points and faster shifts, for better engaging and enjoying the added power.

Looks-wise, the grille's been reshaped to be more in line with the new Chevrolet look, a narrower upper grille hovering over a larger lower grille.

Inside we find more room for rear seat passengers: an extra 1.25 inches of knee room coming courtesy of shorter bolsters, redesigned front seat backs and new cushioning that puts passengers deeper in the seat. Those up front get a new center console with longer armrests, two cupholders and cell phone receptacles.

Changes to the struts and damping are aimed at an improved ride, the addition of blind spot monitoring and Rear Cross Traffic Alert aimed at improving safety. You can read more about the 2014 version of the Chevy Malibu, in the press release below, before it goes on sale this fall.

2014 Chevrolet Malibu is Roomier, More Efficient

• Fuel-saving start-stop technology added to standard model
• Rear knee room improved by 1.25 inches
• Chassis and suspension developments enhance drive experience

DETROIT, Friday, May 31, 2013 – Chevrolet today unveiled the 2014 Malibu – a roomier, more refined and more efficient execution of its midsize sedan. Updated styling, a revised interior, a new 2.5L standard engine and suspension enhancements highlight the changes. It goes on sale this fall.

"The 2014 Chevrolet Malibu builds on the strengths established by the all-new 2013 Malibu to make it a stronger choice for customers," said Mark Reuss, president, General Motors North America. "The midsize sedan segment is the most contested in the industry and we're not sitting still with the 2014 Chevrolet Malibu."

The new and enhanced features include:
• Revised front-end appearance
• Roomier rear seat, with 1.25 inches (31.7 mm) more knee room
• Redesigned center console
• New 2.5L engine with variable valve lift control and start/stop technology helps deliver estimated fuel economy of 23 city / 35 highway – a 5-percent improvement in city mileage and 3-percent greater highway efficiency
• Nearly 14 percent more torque from the available 2.0L turbo engine – 295 lb-ft of torque (400 Nm) – engineered for a greater feeling of power on demand
• Suspension enhancements derived from the all-new 2014 Impala engineered to contribute to a more refined driving experience
• New available Side Blind Zone Alert and Rear Cross Traffic Alert safety features

Malibu's revised front-end appearance is influenced by the all-new Impala, creating a more cohesive look across Chevrolet's sedan lineup. The front fascia features a new, more prominent lower grille and the hood extends down and over the leading edge of a narrower upper grille. The grille openings – with black grille texture – are wider and accented with chrome.


Inside, redesigned seats contribute to greater rear-seat space and greater comfort. The front seatbacks are shaped to improve rear-seat knee room, while new cushion sculpturing and revised cushion material allow passengers to sit deeper in the rear seats. Approximately half an inch was trimmed from the front of the rear seat cushion, for greater comfort behind passengers' legs.

The Malibu's redesigned center console has a longer armrest designed for greater comfort, along with a pair of cup holders and dedicated storage for two cell phones.

"We made changes within 18 months, demonstrating an unprecedented commitment to make the Malibu the best car it can be," said Ken Kelzer, executive chief engineer, global full-size and midsize cars. "The 2014 Malibu has been engineered to deliver more precise ride and handling that is on par with more expensive sports sedans."

More efficient, powerful powertrains
An all-new Ecotec 2.5L Intake Valve Lift Control DOHC four-cylinder engine with direct injection is the 2014 Malibu's standard engine. Its variable intake valve actuation enhances efficiency and helps lower emissions, while also enhancing low-rpm torque, for a greater feeling of power at lower speeds. When the iVLC system operates in low-lift mode, the engine pumps only the air it needs to meet the driver's demand. The system switches to high-lift mode at higher speeds or under heavy loads, providing the full output capability of the engine.

New start/stop technology shuts down the 2.5L engine to save fuel when the Malibu stops momentarily, such as at stoplights, contributing to an estimated 5-percent increase in city fuel economy. The engine automatically starts again when the driver takes his or her foot off the brake. An auxiliary battery powers electric accessories such as the climate system, power windows and radio during engine restarts.

The new 2.5L is SAE-certified at 196 horsepower (145 kW) and 186 lb-ft of torque (253 Nm). Revised transmission shift points and quicker shifts also enhance the feeling of performance – while delivering greater refinement.

Additionally, the 2014 Malibu's available 2.0L turbo engine delivers nearly 14 percent more torque than its predecessor. It is SAE-certified at 295 lb-ft (400 Nm). New engine calibration and tuning account for the improvement, making the Malibu 2.0L turbo's torque the best in the segment, even among competing six-cylinder-engines. The result is a stronger feeling of acceleration from a stop and a greater feeling of power on demand in almost all driving conditions.

The 2.0L turbo also produces an SAE-certified 259 horsepower (193 kW).

Chassis refinements
Chassis and suspension updates inspired by the all-new 2014 Impala also contribute to the 2014 Malibu's more refined driving experience, including rebound springs that are internal to the struts. They enable more refined calibration of the dampers for a smoother overall ride, while also improving body roll control and weight transfer during acceleration or turning. That helps keep the wheels planted, contributing to a more precise, controlled feel – especially while cornering.

Fuel-saving electric power rack-and-pinion variable-effort power steering is standard and enables nearly effortless low-speed maneuvers and a higher degree of steering feel at higher speeds. Revised, higher-effort calibrations for 2014 were engineered to improve the overall steering feel. Also, the Malibu's brake system has been revised to provide a more confident feel.

Additional chassis control technologies include four-channel anti-lock brakes, full-function traction control, four-corner electronic stability control, electronic brake force distribution, brake assist system, corner brake control, hydraulic brake fade assist and drag torque control.

Enhanced safety
New Side Blind Zone Alert and Rear Cross Traffic Alert safety features are offered, adding to the protection from a car that received a 5-Star Overall Vehicle Score in the New Car Assessment Program from the National Highway Traffic Safety Administration and a 2013 Top Safety Pick by the Insurance Institute for Highway Safety. Both are the highest ratings possible.

Malibu also comes with 10 standard air bags and an available rearview camera system.

Founded in 1911 in Detroit, Chevrolet is now one of the world's largest car brands, doing business in more than 140 countries and selling more than 4.5 million cars and trucks a year. Chevrolet provides customers with fuel-efficient vehicles that feature spirited performance, expressive design, and high quality. More information on Chevrolet models can be found at www.chevrolet.com.
---
By Jonathon Ramsey
---
See also: Veyron and C7 Corvette join cast of Transformers 4, Race Recap: 2013 Indianapolis 500 better than Bollywood; all the emotion, none of the music [spoilers], Next-gen GM SUVs caught wearing new boxy bodies [w/video].