Veyron and C7 Corvette join cast of Transformers 4
Wed, 29 May 2013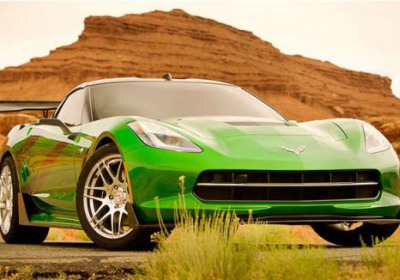 Like the Fast & Furious franchise, the Michael Bay-directed series of Transformers movies has become known as much for its bad acting as its impressive lineup of cars. As filming just started for Transformers 4, Bay's website has confirmed two new cars for the next installment as well as a makeover for everyone's favorite tractor trailer hero, Optimus Prime.


Joining the cast of T4 are a "race-inspired" Chevrolet Corvette Stingray and a Bugatti Veyron Grand Sport Vitesse. While Bay's website did not supply names for either car, Bugatti is reporting on its Facebook page that the Veyron will join the Autobots. Speaking of the good guys, top Autobot Optimus Prime is getting an all-new body based on a Western Star with a gaudy appearance that was seemingly inspired by Trick My Truck – right down to the six smoke stacks and side pipes!
---
By Jeffrey N. Ross
---
See also: Race Recap: 2013 Indianapolis 500 better than Bollywood; all the emotion, none of the music [spoilers], Of course, Dubai Police add Bugatti Veyron to fleet, Next-gen GM SUVs caught wearing new boxy bodies [w/video].