Witness this insane 736-hp VW Golf immolate its front tires
Mon, 11 Mar 2013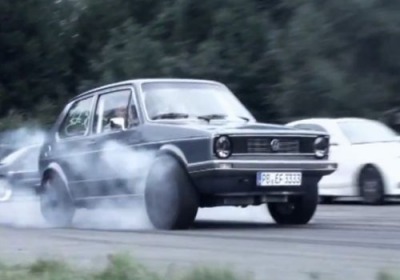 There's torque steer and then there's what we'll from now on dub "The Boba," as in Boba Kettler. The German tuner has a way with the Volkswagen Golf, and the MkI example you see above has been touched with 736 horsepower – that's right, 96 more ponies than a new SRT Viper, all trying to get to ground through those two front wheels.

The 2.0-liter, 16-valve engine has an 8,800 rpm redline and is aided by a Garrett GTX3582R turbocharger shoving 50 psi through the internals. Other upgrades include a new ECU (natch) and a six-speed 'box among other treats. The rubber is Toyo R888s – street-legal competition tires. The result is enough smoke for three Chinese New Years when the lights go green. Indeed, the standing start isn't its forte, but it can apparently get from 62 miles per hour to 124 mph in five seconds.

Watch it go in the video below. And know that this isn't even Boba's best work; he's got a 900-hp MkII Golf that'll do 0-62 mph in 2.3 seconds.


---
By Jonathon Ramsey
---
See also: 2014 Volkswagen XL1 [w/video], Editors' Choice: Top Five 2013 Geneva Motor Show Debuts, 2013 Volkswagen Golf R Cabriolet.