2014 Volkswagen XL1 [w/video]
Mon, 11 Mar 2013 11:57:00 EST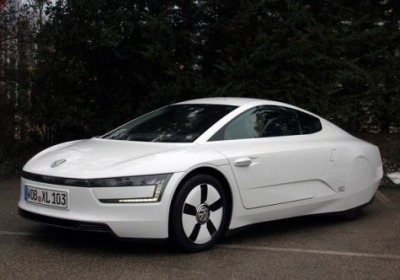 World's Most Efficient Car Impresses, Not Without Compromises

Among our many duties at the recent Geneva Motor Show, we were offered a pretty exclusive drive in the new Volkswagen XL1 hyper-efficient plug-in diesel hybrid. There is so much that is interesting about a car like this reaching production from a major automaker that it's tough to know where to begin.

First off, you should know that – at least for this generation – there is absolutely no chance in Albuquerque that this "1-liter vehicle" (i.e. a vehicle that can burn just one liter of fuel to travel 100 kilometers, or 62.1 miles) will ever make it into the hands of North American customers. We, too, were having trouble imagining an XL1 in typical American traffic, surrounded by comparatively massive pickups and SUVs. The driving experience had us recalling a couple of weeks in 1999 when we drove the then-revolutionary Honda Insight hybrid on US roads. We keenly remember the feeling of being very small and vulnerable, even as we felt proudly green in our 61-mpg Tochigi pod. Thing is, the Volkswagen is smaller still, and nearly as light despite its more complex drivetrain and safety features.

In fact, the VW XL1 drive experience itself is very much like what we experienced in the Honda. Start talking about those details, however, and the XL1 reveals itself as a new way of seeing ultra-efficiency at work. The main technical difference is that the XL1 runs off of the parallel combination of a 27-horsepower electric motor that derives its current from a 5.5-kWh lithium ion battery pack, plus a 47-hp 800-cc turbocharged and direct-injected two-cylinder diesel engine. The whole parallel powertrain is located in back, while the 12V battery for ancillaries and the lithium-ion assembly, which can be charged via plug and gets some energy through brake recuperation, is positioned up front.


The liquid fuel tank of the XL1 holds just 2.64 US gallons of diesel.
No boring old CVT golf-cart transmission here. Volkswagen has added even more VW-ness to the proceedings by employing its energy-efficient – though a tiny bit heavy in this application – seven-speed dual-clutch DSG transmission. Oddly, however, there is nary a paddle for shifting to be found at the steering wheel. The interface for the transmission is simply the center console joystick, with D for normal automatic and braking/coasting energy recuperation and an S mode reserved for greater energy recuperation via increased resistance and later shifts.

The liquid fuel tank of the XL1 holds just 2.64 US gallons of diesel. In theory, if you run the XL1 as absolutely frugally as humanly possible off the internal combustion engine and drain the fuel tank to the bone, you can travel 690.3 miles before refilling the 2.64 gallons for around 10 bucks. Then add in the 32 miles of full-EV motoring on a fully charged battery at speeds of up to 62 miles per hour when you press the e-drive button, and your observed range could be well beyond the 700-mile mark per tank and charge. (Always plug in when possible, however, dear readers. Let us refer you to The New York Times.) It all sounds remarkable, and with these big numbers dancing in our heads, we pressed the Start button and were off along the north shore area of Lake Leman.


It is slipperier through the air than the EV1, setting a new record for series-produced road cars.
Through several open road sections, in addition to passing through many small Helvetian towns with names like Dully and Gland, we were able to assess what it might feel like to be an early adopter. Here's the rub: You absolutely must possess a deliciously adventurous scientific side in order to want to participate financially in the XL1 experience. As an everyday second car, just scratch it off the list. While we did authentically enjoy the whole novelty of the experience, in the end, we can't help but wonder how soon the novelty might wear off, the XL1 just ending up gathering dust in the garage surrounded by moving boxes.

No matter what Volkswagen's gifted technicians might tell us, the XL1 has no suspension. We exaggerate only slightly – if the XL1 were not on these Swiss country roads licked clean by peaceful herds of happy sheep, then every bump would surely end up transmitted right into our cerebral cortex. The large village speed bumps we encountered needed to be approached as though we were driving a Ferrari Enzo FXX with no nose-lift hydraulics. The one bump for which we decided not to slow to a near halt showed us our decision was a poor one, so the very thought of encountering a US-spec pothole would be enough to consider putting our chiropractor on retainer. The dampers have perhaps a couple inches of travel at most. This, say the on-site experts, is to maintain at all times the XL1's optimal orientation for its teeny-tiny 0.189 coefficient of drag. That's one one-thousandth slipperier through the air than the late-1990s General Motors EV1, setting a new record for series-produced road cars.

You'll note that the seating, which is really comfortable, is staggered, with the right-side passenger back a few inches and just slightly behind the driver. This reminds us of the three-seat situation of the McLaren F1 or, for its lowness and frontal view out, the sense of driving a 1970 Renault Alpine 1100. Forget any kinship with a modern everyday car. The staggered seating in the XL1 was set in order to maintain the aero-perfect teardrop/cigar shape while also allowing humans inside equal shoulder and headroom. The overall cabin feel is nicely spartan, but it is nearly all familiar Volkswagen interior bits in the driver's view. A big standout is the composite small-diameter steering wheel that feels pulled straight from a pro kart. The hands and fingers feel like they're resting in a custom-fit glove, it's so nice to grip. There's a modest 4.2 cubic feet trunk under the rear hatch for your locally sourced organic produce, too.


Each of these initial examples might cost as much as a nicely detailed Audi A6 – and it's safe to assume VW would still be losing money.
The Garmin onboard display, though a touch aftermarket in appearance, is a trick little unit that is one of the better we've played with in a while. All of the necessary hybrid-action-monitoring is displayed here, the "How I'm doing" interface correctly labeled as a Think Blue "Trainer," since these high-tech hyper-milers really require a bit of driver coaching to get the most out of them. A feature that worked very well for us was the camera side-view "E-Mirrors." Gazing occasionally slightly down and forward at the door panels was not the distraction we imagined it would be, and the view was mostly faithful to the eye apart from slight distortions on closer cars as they passed, an effect that makes the E-mirrors compliant with EU regulations on aspheric ends to side mirrors. There is a solid blind spot directly behind, but a rear-view feature for the Garmin onboard screen would solve that without adding much weight.

For the sake of this XL1, which will in its first phase be built in 250 test units available only in Germany and Austria, Volkswagen has also gone all-out with materials in order to keep the XL1 lightweight yet still able to pass homologation in Europe. The chief solution is carbon fiber reinforced plastic (CFRP) for all body panels and doors, plus magnesium structural bits and fore and aft crash structures rendered in drilled aluminum billet. The brakes are similarly lightweight carbon ceramic pieces, and they work fine enough (wooden brakes could stop something this light). Thanks to its intensely lightweight construction, the XL1 checks in at just 1,918 pounds. But those are expensive pounds; were they for sale at your local dealer, each of these initial examples might cost as much as a nicely detailed Audi A6 – and it's safe to assume VW would still be losing money.


The diesel hybrid powertrain produces 68 HP and 103 LB-FT of torque, good for a 0-60 run in 12.5 seconds.
It was good to feel the seven-speed DSG dual-clutch transmission – the same tranny with magnesium housing as used on the Jetta Hybrid – go to work providing actual shifts while under hard throttle with the 800-cc turbodiesel. In this full-boost mode, the internally combusted and electric powertrains combine for 68 horsepower and 103 pound-feet of torque, good for a 0-60 run in an estimated 12.5 seconds. With the lightweight-at-all-costs approach, we'll be surprised if the proceedings aren't a bit quicker – say 11 seconds or so. In this boost mode at real highway speeds, VW is honest enough to simply estimate range as at least 315 miles.

A distinct challenge for the XL1 under any sort of greater throttle input is the moment where the 800-cc diesel and its tiny Garrett turbocharger kick in. With only an extremely thin CFRP rear wall between the XL1's occupants and the engine housing, and with all insulation sacrificed in the name of keeping weight down, we were reminded of the loud kick-in of the four-cylinder Ecotec engine in early Fisker Karma sedans and how unacceptable it was. Well, it's unacceptable here, too. VW may be forced to add a few pounds of sound isolation to the passenger cabin between now and the start of autumn deliveries to the German-speaking world. Either do this, or the XL1 may end up another noble project-car memory that was too far ahead of its time to be legitimately embraced.


Being an XL1 early adopter is going to be a labor of love.
Was the XL1 easy to get in and out of? Yes, it was. But, honestly, with these experimental car fleets, we're sufficiently geeked to have the chance to drive them that we'll put up with the occasional discomfort. Regardless, there was no discomfort, just the slight stretch up to grab the skyward doors. On the other hand, between the completely unforgiving suspension setup and the skinny, rock-hard low rolling resistance Michelin Energy tires (115/80 R15 front, 145/55 R16 rear), it's worth repeating that being a 2014 Volkswagen XL1 early adopter is going to be a labor of love. Lease or purchase costs for this techy and green privilege will be announced come summer.

In the future, much of the technology study going on in the XL1 will trickle into the e-Up! subcompact plug-in model, as well as to the planned e-Golf. No, the bodies of those mass-produced cars will not be made of cost-prohibitive CFRP and they will not have butterfly doors, but Volkswagen is showing the rest of the planet just how quickly it intends to move on the eco-trends first established and owned by the likes of Toyota, Renault-Nissan and General Motors. But VW isn't just acting upon them with me-too solutions; they are threatening to raise the bar completely.


Vital Stats
Engine:

800cc Turbo-Diesel I2 + e-motor

Power:

68 HP / 103 LB-FT

Transmission:

7-Speed DSG

0-60 Time:

12.5 Seconds (est.)

Drivetrain:

Rear-Wheel Drive

Curb Weight:

1,953 LBS

Seating:

2

Cargo:

4.2 CU-FT

MPG:

261 (max est.)

Base Price:

NA
---
By Matt Davis
---
See also: Editors' Choice: Top Five 2013 Geneva Motor Show Debuts, 2013 Volkswagen Golf R Cabriolet, Volkswagen Golf Variant Concept R-Line puts the sport in SportWagen.