Editors' Choice: Top Five 2013 Geneva Motor Show Debuts
Fri, 08 Mar 2013 11:57:00 EST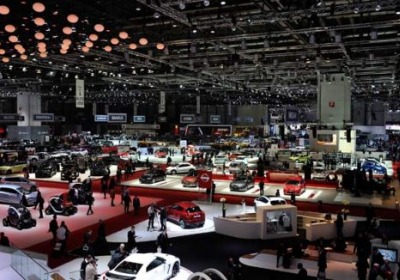 We've returned from a very busy week in Switzerland, and in going back over all of our 75 stories from the Geneva Motor Show, our editors have gathered up their personal favorite debuts from the European expo.

The wonderful thing about the Geneva show is just how wide of an array of vehicles are on display – everything from funny little one-off EVs to the most exotic of supercars to, well, truly ridiculous displays of coachbuilding. And because of that, this list of our editors' favorites might not be as predictable as you think.

But we don't want to give anything away just yet. Scroll down to have a look at our team's favorites from Geneva.

#5: Toyota FT-86 Open Concept

Perhaps it's our love for the Mazda MX-5 Miata coming through, but there's a whole lot to adore about this Toyota FT-86 Open concept. This thing appears practically production ready, and it sure looks like a worthy Scion FR-S Convertible to us. Lightweight, fun to drive, and now with the added bonus of wind in our hair. This is indeed a package we can all get behind, even if those useless rear seats are still in place. Toyota hasn't officially confirmed that this car will be green-lit for production, but we don't see why it wouldn't be. We'll try to remain patient in the meantime.


Related Gallery

Toyota FT-86 Open Concept: Geneva 2013

#4: McLaren P1

In terms of the major supercars that debuted in Geneva, nothing stood out like the McLaren P1. It's an absolute technological marvel, what with its hybrid drivetrain capable of producing 903 horsepower, able to propel the aerodynamic beauty to 62 miles per hour in under three seconds. But its sheer accelerative thrust to 62 mph isn't even close to being the icing on the cake – how about a 0-186 mph run of 17 seconds – 11 seconds quicker than the McLaren F1. Man, oh man. This thing takes our breath away even when standing still.


Related Gallery

McLaren P1: Geneva 2013

#3: Volkswagen XL1

Much as we love supercars, there's also a lot to be said for automotive marvels on the efficiency side of things, too. Take this funny little Volkswagen XL1, for example – it's an honest-to-goodness production car that will reportedly hit something in the area of 261 miles per gallon. It's certainly not fast nor powerful, and it won't be cheap when it goes on sale, but the fact that engineers are actually capable of building something like this is incredibly remarkable. And props to Volkswagen for keeping that pod-car design intact, as well.


Related Gallery

Volkswagen XL1: Geneva 2013

#2: Touring Superleggera Disco Volante

The Touring Superleggera Disco Volante could win us over just on name alone. This coachbuilt machine is a simply stunning homage to the original 1952 Alfa Romeo C52 Disco Volante, based on the current (and already beautiful) Alfa 8C Competizione. Touring Superleggera will actually be building road-going versions of this car, complete with the 8C's 444-horsepower 4.7-liter V8. The company says it takes approximately six months and 4,000 man hours to build each one of these stunning creations, and we think every minute is worth a total package that looks this great.


Related Gallery

Touring Superleggera Disco Volante: Geneva 2013

#1: Italdesign Giugiaro Parcour Concept

It's hard to fathom, but this stunning beast is an off-road-ready performance coupe that sits atop the Lamborghini Gallardo platform. Yes, you read that correctly. Italian design house Italdesign Giugiaro, a company famous for making truly special and gorgeous pieces of machinery, created this Parcour concept – in both coupe and convertible bodystyles – for the Geneva show this year, and we indeed took notice.

It's every bit as excellent in terms of performance as it is in terms of design, and we like concept cars that actually break a mold and cause controversy. In this case, Italdesign Giugiaro has succeeded in creating something really remarkable – a design that lurks somewhere between roadgoing supercar and Group B rally revival. The Parcour was striking enough that not only did it come away as our editors' favorite Geneva debut, Volkswagen AG thought enough of the coachbuilt project to reveal it at their group night on the eve of the show – just like any of their brand's other concepts and production cars. Could a strong-enough reception lead to a limited production run? They've got our vote.


Related Gallery

ItalDesign Giugiaro Parcour Concept: Geneva 2013

So... how'd we arrive at this list? Each Autoblog editor in attendance ranked their personal show favorites from one to five, and points were awarded to each – five points for the first place spot, one point for the fifth place spot, and appropriate numbers in between. Votes were tallied and vehicles were ranked, but if you're curious, here's how the actual voting breakdown looked:

Parcour – 18 points
Disco Volante – 13 points
XL1 – 11 points
P1 – 9 points
FT-86 – 8 points
Now, you're probably asking yourself, where are the Ferrari and the Lamborghini? You'll find them on the Honorable Mention list below, but here's the thing: Because these top five picks are based on our personal favorites, and because the Geneva Motor Show is packed with so much in the way of awesome, one-off goodness, even mainstay supercars can be overlooked. That isn't to say these Italian gods aren't awesome, they just... didn't light strong enough fires in our hearts. Oh, and the fact that the Enzo successor is actually called LaFerrari probably didn't help its case, either.

Honorable Mentions

Part of the fun of doing this list is seeing what each individual staff member votes for. And since this is a point-based list, there are always a good number of cars that don't quite make the Top Five cut. So in addition to listing them all below, we'll even point out who raised their hands for each car. You know, so you can make fun of us in the Comments if you see fit.

Kia Provo Concept – 6 points (Jonathon Ramsey, Sebastian Blanco)
KTM X-Bow GT – 5 points (Jonathon Ramsey)
Ferrari LaFerrari – 5 points (Chris Paukert, Zach Bowman, Matt Davis)
Lamborghini Veneno – 5 points (Drew Phillips, Steven Ewing)
Bertone Jet 2+2 – 5 points (Zach Bowman)
Akka Link and Go – 3 points (Matt Davis)
Toyota i-Road – 3 points (Sebastian Blanco)
McLaren F1 LM (admittedly not a debut, but still awesome)– 3 points (Jonathon Ramsey)
Alfa Romeo 4C – 2 points (Zach Bowman)
Volkswagen GTI – 1 point (Drew Phillips)
Mitsubishi CA-MiEV – 1 point (Sebastian Blanco)
Pininfarina Sergio Concept – 1 point (Chris Paukert)
---
By Steven J. Ewing
---
See also: 2013 Volkswagen Golf R Cabriolet, Volkswagen Golf Variant Concept R-Line puts the sport in SportWagen, Volkswagen Cross Up! aimed at rugged lifestyle folks, complete with plastic cladding.