Why Ford's Alan Mulally would be right for Microsoft, or any company
Thu, 03 Oct 2013 09:00:00 EST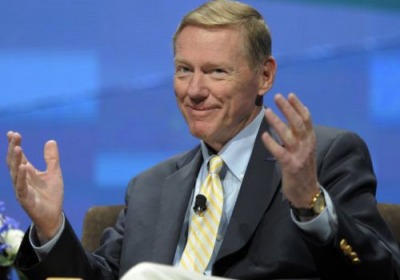 That Mulally was seriously being considered says a great deal about Microsoft and Mulally.
It appears that the chatter about Ford CEO Alan Mulally possibly leaving early to take over as CEO of Microsoft is losing air pretty fast. What's pretty interesting is that it got any traction in the first place.

That Mulally was seriously being considered a solid candidate to takeover the software and digital giant – after running old industrial Ford for seven years after a career at old industrial Boeing – says a great deal about Microsoft, and Mulally.

Mulally told USA Today: "I love serving Ford and have nothing new to add to [My] plans to continue serving Ford."

Ford spokesman Jay Cooney gave Autoblog the following statement:

"There is no change to what we announced last November. Alan is absolutely focused on continuing to make progress on the One Ford plan. We do not engage in speculation."





He drove Ford out on a limb with its SYNC and MyFord Touch systems.
After inheriting a train wreck from his chairman Bill Ford in 2006, Mulally has been able to lead the company to 16 consecutive profitable quarters. He also drove Ford out on a limb with its SYNC and MyFord Touch systems, the former being powered by a Microsoft software platform. It's been balky and glitchy, but Ford is staying with the strategy of being out front and taking chances with telematics tech, even if it means sometimes getting ahead of where its customers are comfortable.

Microsoft is no Ford. It is not a train wreck. It is very profitable. But let's face it, Microsoft's size and locked-in dominance of operating systems and software keeps it a giant, if complex, cash machine. But it is a company in some disarray, and sorting that out seems to be Mulally's talent.

Here are some telling issues with the company:
Reuters and The Wall Street Journal reported that three large angry shareholders representing five percent of the company are calling for the ouster of Bill Gates as chairman.
Microsoft has been a laggard in mobile technology and online software development, say many experts and analysts. I'd have to agree based on my use of mobile phones and talking to our tech developers about our online products.
It has unprofitable distractions like smartphones and Xbox. The latter, it can be argued, would be better spun off, as its not a core business. And who can forget the iPod challenger Zune? How about everyone?
Even so, the performance of Microsoft shares has been okay. In the last 52 weeks, Microsoft shares are up 38 percent compared with 35 percent for the NASDAQ composite.


Microsoft has been trying to follow a "One Microsoft" mantra that sounds a lot like Mulally's "One Ford" strategy.
So where does Mulally come in? It's not lost on anyone that Microsoft has been trying to follow a "One Microsoft" mantra that sounds a lot like Mulally's "One Ford" strategy. Mullaly has done a lot of business with CEO Steve Ballmer and chairman Bill Gates. It seems to be a mutual admiration society.

Why do those guys have a lot of time for Mulally? Slogans with the word "One" can be written by everyone. Mulally got everyone at Ford to focus on building up the Ford-branded vehicle business worldwide. He jettisoned Aston Martin, Jaguar, Land Rover, Mercury, Volvo and Hertz. He might have sacked Lincoln too, and may still wish he had, but was sold on the idea of keeping one premium brand in the house. Ask anyone at Ford, and they will tell you Mulally brought zen-like focus to the company.

He got the organization focused on one plan, and he relentlessly drove it into the team. He replaced remarkably few executives. A few prominent outsiders have come into key posts – Jim Farley as head of global marketing and some folks in the sales organization. The executives who were killing Ford quickly self-selected themselves out, either in the months before Mulally arrived or just after. It was remarkable to see dullards and dolts of the previous regime leave like roaches when the lights go on. Those that stayed signed up for the plan, and stuck to it. If they strayed, they'd be gone.

Mulally is a design engineer by training, and has logged his decades working for two companies – Boeing and Ford – that utterly rely on the integration of complex technology and the ability of the workforce to focus on the right things.

Having reported on and observed companies and CEOs for 25 years, I see that the ability to focus a workforce around a single idea may be the most under-rated skill in business. The idea that Microsoft understands that it needs someone with that extremely hard-to-find talent may be the first indication that the company is ready to move into a post-Bill Gates era.
---
By David Kiley
---
See also: Ford EcoBoost V6 hits the dyno before hitting the track, Mustang Cobra Jet prototype garners $200k for charity at Barrett-Jackson, Amid Mulally rumors, Bill Ford praises company's deep bench.