Ford EcoBoost V6 hits the dyno before hitting the track
Wed, 02 Oct 2013 19:00:00 EST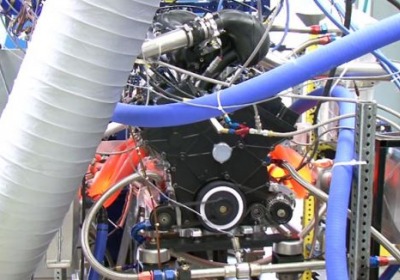 Ford Racing just unveiled the Riley Daytona Prototype that will make its racing in the United SportsCar Racing Championship Rolex 24 at Daytona in January, and now it has released a video showing development of twin-turbo 3.5-liter EcoBoost V6 that powers the car. Using the same block and heads that can be found on a production Ford Taurus SHO, this new racecar benefits from the collaboration between Ford Racing and Ford powertrain engineers.

While we still don't know what kind of power this engine is putting out, it has definitely gotten a workout at Ford's 17G dyno. This area deep within Ford allows the automaker's racing program to work hand-in-hand with production engine programs, which can be a benefit to racing operations and production cars alike. Scroll down to hear a few people from Ford talk about the crosspollination between its racing and engine teams and watch the EcoBoost get red hot on the dyno.



---
By Jeffrey N. Ross
---
See also: Mustang Cobra Jet prototype garners $200k for charity at Barrett-Jackson, Amid Mulally rumors, Bill Ford praises company's deep bench, 3dCarbon now offering body kit for Ford Fusion.