Amid Mulally rumors, Bill Ford praises company's deep bench
Wed, 02 Oct 2013 10:29:00 EST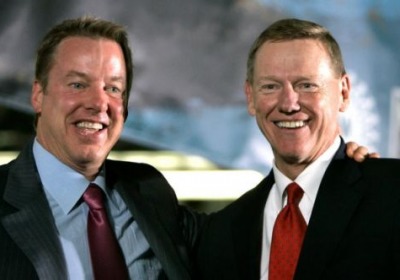 Bill Ford went on the offensive to combat the rumors that CEO Alan Mulally would leave Dearborn for Steve Ballmer's vacated position leading Microsoft, adding that even if the 68-year-old, former Boeing exec were to depart, the Ford executive team is in a good place.

"I'm happy [Mulally] is going to stick around. But we also feel really good about where we are in terms of succession," Ford told Bloomberg TV, according to Automotive News. Rumors first cropped up about Mulally leaving Ford when AllThingsD speculated that he was in the running, early last month. In that same report, which you can read here, Ford's board of directors reportedly okayed the CEO stepping down ahead of his planned retirement in 2014.

That opened the floodgates, culminating in a report from a few days ago that the rumors over Ballmer's successor just might be true. The story is especially troubling, as Ford hasn't had Mulally under contract, according to AN. "He's here as long as he and I would like it to happen," Ford said, "We're also cognizant of training the next generation and getting them ready to go as well."

But from the sounds of it, even if Mulally did depart, which Ford doesn't seem to think will happen, he sounds extremely confident in Mark Fields and the other leaders in Dearborn. "As good as Alan is, we knew that he wasn't going to last forever. Nobody does. We have the best team today that we've had in my working career. I feel really good, as does Alan, about where we are going forward."
---
By Brandon Turkus
---
See also: 3dCarbon now offering body kit for Ford Fusion, Ford reveals EcoBoost-powered Riley prototype for Daytona 24, Ford's Mulally now said to be in lead for Microsoft CEO job.