Volkswagen debuts MkVII-based diesel Golf GTD
Thu, 21 Feb 2013 04:00:00 EST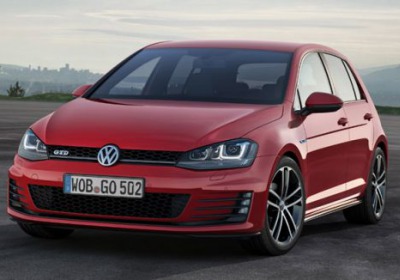 As Volkswagen prepares for the launch of the seventh-generation Golf, it continues to show off some of the car's different variants. With the standard Golf and the ultra-efficient BlueMotion Concept out of the way, now we're finally starting to see some of the sportier versions planned for the hatchback. Confirmed for a debut at the Geneva Motor Show, Volkswagen has now given us our first glimpse at the Golf GTD.

Just think of the GTD as a diesel version of the GTI with all the handling and styling upgrades, and then add a torquey engine to the equation. (We had the chance to sample the current GTD over the summer, so click here to read more.) To go with the new body style, VW also gave the GTD a new TDI engine consisting of a similar turbocharged and direct-injected 2.0-liter inline-four layout but with an output of 184 horsepower and 280 pound-feet of torque – that's an increase of 14 hp and 22 lb-ft over the current GTD. That's a pretty good oomph, but the GTD won't be setting any acceleration records with VW quoting a 0-62 mile per hour time of 7.5 seconds thanks to the car's 3,036-pound curb weight.

The styling of the MkVII Golf lends itself quite well to the more aggressive body kit found on the GTD (and likely matching the GTI). The new front fascia and blacked-out grille give the GTD a sporty look up front, while 17-inch sport wheels, rocker panel extensions and smoked LED taillights finish off the visual changes. The GTD will only be offered in three exterior colors: Tornado Red, Black and Pure White. As expected, the interior gets the plaid seat inserts and flat-bottomed sport steering wheel, but the car also gets stainless steel pedals, a black headliner, ambient cabin lighting and a specific gauge cluster readout.

Aside from saying the GTD will get a "lowered sport suspension," there is word on what specific changes were made, but if that slammed stance is anything to go by, this is going to be one fun car on the track. Volkswagen has yet to say whether or not the 2014 GTD will be sold in the US, but buyers in Germany can get their hands on this car in June with a starting price of 29,350 euros, which will include standard features such as park assist and a touch-screen infotainment system.

Show full PR text

NEW VOLKSWAGEN GOLF GTD MAKES ITS WORLD DEBUT AT THE GENEVA SHOW

-Combined European Cycle fuel consumption of 56 mpg with manual transmission
-New EA288 four-cylinder TDI® engine makes 184 horsepower and 280 pound-feet of torque
-Manual version accelerates from 0 to 62 mph in 7.5 seconds

Wolfsburg, February 21st, 2013 – Over the past three decades, fans of the Golf GTD have been excited by the car's combination of fuel efficiency and sporty performance and looks. At this year's Geneva International Motor Show, Volkswagen debuts the latest version of this fuel-sipping sporty compact, which features a 184-hp version of the new EA288 TDI turbocharged, direct-injection, four-cylinder diesel engine that already complies with the challenging EU-6 emissions standard.

The first Golf GTD in 1982 revolutionized the sporty compact segment with its turbodiesel engine, sporty demeanor, and its GTI-style features. This year's GTD is the most powerful ever and is based on the seventh-generation Golf.

With184 horsepower and an impressive 280 pound-feet of torque that's delivered from just 1750 rpm, the new Golf GTD combines the dual roles of highly efficient long-distance tourer and dynamic backroad performer. When equipped with the six-speed manual transmission, the GTD has an EC combined fuel economy figure of 56 mpg, some feat considering the car can also reach a top speed of 143 mph. This combined fuel consumption figure equates to CO2 emissions of just 109 g/km. With the optional six-speed DSG® dual-clutch automatic transmission, the combined fuel consumption is 50 mpg.

Visually, the Golf GTD makes a statement through smoked LED taillights with LED licence-plate illumination; chrome dual tailpipes;17-inch GTD wheels with 225/45 tires; a lowered sport suspension; and body enhancements that include side skirts, a rear diffuser, and a large roof spoiler.

The interior is also marked out by numerous distinctive GTD features, such as sport seats with a tartan pattern ("Clark"), black headliner, a sport steering wheel, stainless-steel pedals and foot rest, a GTD shifter grip, and a model-specific instrument cluster. Standard features include white ambience lighting, "Climatronic" automatic climate control, park assist, and Volkswagen's latest touchscreen infotainment system.

The GTD will be offered in three colors: "Tornado Red", "Black", and "Pure White". The car goes on sale in Germany in June with a base price of 29,350 euros.

Overview
Market launch in Europe: June 2013
Debut of first Golf GTD generation: 1982
Engine: Four-cylinder TDI (turbocharged direct-injection diesel)
Layout: Front transverse
Displacement: 1968 cc
Bore x stroke: 81.0 x 95.5 mm
Compression ratio: 15.8:1
Power: 184 hp (135 kW) at 3500-4000 rpm
Torque: 280 lb-ft (380 Nm) at 1750 rpm
Transmission/drive type: Manual six-speed;
DSG six-speed dual-clutch automatic; front-wheel drive.
EC combined fuel consumption/CO2 emissions (manual): 56 mpg; 109 g/km CO2
Performance (manual): 0-62 mph in 7.5 sec; Max speed; 143 mph
Unladen weight: 3036 pounds (base version)
(* preliminary data)

About Volkswagen of America, Inc.
Founded in 1955, Volkswagen of America, Inc. is headquartered in Herndon, Virginia. It is a subsidiary of Volkswagen AG, headquartered in Wolfsburg, Germany. Volkswagen's operations in the United States include research and development, parts and vehicle processing, parts distribution centers, sales, marketing and service offices, financial service centers, and its state-of-the-art manufacturing facility in Chattanooga, Tennessee. Volkswagen is one of the world's largest producers of passenger cars and Europe's largest automaker. Volkswagen sells the Beetle, Eos, Golf, Golf R. GTI, Jetta, Jetta SportWagen, Passat, CC, Tiguan, Touareg and Routan vehicles through approximately 600 independent U.S. dealers. Visit Volkswagen of America online at www.vw.com.
---
By Jeffrey N. Ross
---
See also: New VW Beetle Convertible ad needs no disguise, Volkswagen Cross Up! headed for production after Geneva reveal, Next Volkswagen Golf R to get 286 horsepower?.