Toyota to sell hot-pink Crown in Japan
Sun, 11 Aug 2013 10:58:00 EST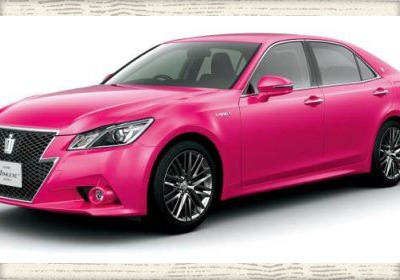 Akio Toyoda is doing a pretty decent job at the helm of the Toyota empire. This is the man, after all, that declared that Toyota would get new sports cars, and that they needed to be, not should be, rear-wheel drive. We can respect that. Toyoda is also trying to do away with his company's conservative styling and bring edgier vehicles to market.

Toyota's designers have done just that, although perhaps they went a bit too far. In November, Toyota debuted its fourteenth-generation Crown with a bling-bling fascia that makes Lexus' spindle grille look as conservative as a three-piece suit, and a retina-searing pink paintjob. See, in Japan, the Crown is to Japan's older crowd what the 2002 Buick Park Avenue is to America's senior citizens. As Automotive News reports, the idea with the pink was to draw attention to the grille, but it was originally intended as a debut item, only.

Now, Toyota is actually planning to offer the electric fuchsia Crown for sale to regular buyers. Interested parties will have from September 1st to September 30th to place an order for the big sedan. According to the AN report, Toyoda said to reporters at the debut, "My initial reaction was: 'You're kidding! Please, not pink." We wish they were kidding.
---
By Brandon Turkus
---
See also: Two new RWD Toyota sports cars to join FR-S?, Toyota promises Hybrid-R concept for Frankfurt, 2014 Toyota Tundra gets five grades priced from $25,920*.