Toyota announces two recalls affecting 1M Corolla, Matrix and Lexus IS models
Wed, 30 Jan 2013 11:29:00 EST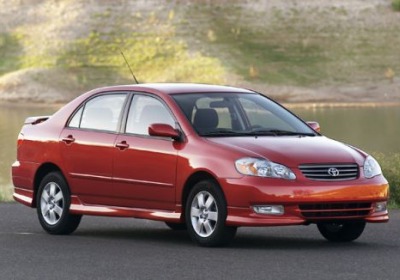 The recall bug strikes Toyota again. The automaker has issued a voluntary recall of three models that, in total, represent more than one million units. Around 752,000 2003-2004 Toyota Corolla and Matrix models are being recalled for airbag concerns, while a windshield wiper issue is causing the recall for close to 270,000 Lexus IS sedans from the 2006-2012 model years.

Completely unrelated to the small airbag-related recall issued earlier in the week, the Corolla and Matrix recall is caused by a faulty airbag control module that could potentially short circuit, which could lead to the front airbags or seat belt pretensioners deploying. The Lexus recall is due to a wiper arm nut that wasn't tightened properly, which can cause the wipers to not work when trying to clear heavy buildup such as snow.

Scroll down for a press release that includes more information, as well as details about how owners can contact the manufacturer directly.

TOYOTA ANNOUNCES TWO VOLUNTARY SAFETY RECALLS OF CERTAIN 2003 AND 2004 COROLLA AND 2006-2012 LEXUS IS MODELS

TORRANCE, Calif., Jan. 30, 2013 – Toyota Motor Sales, U.S.A., Inc. (TMS), will conduct two separate safety recalls involving approximately 752,000 Corolla and Corolla Matrix vehicles and approximately 270,000 Lexus IS vehicles.

The airbag control module for the supplemental restraint system (SRS) in the Corolla and Corolla Matrix vehicles could have been manufactured with application-specific integrated circuits (ASICs) that are susceptible to internal shorting. These ASICs could experience an internal short that creates abnormal current flow and increased heat. If this occurs, there is a possibility that the ASIC could become damaged. In some instances, the front airbag(s) and/or seat belt pretensioners could inadvertently deploy.

The second safety recall involves the front wipers on certain Lexus IS vehicles where the wiper arm nut might not be sufficiently tight. If movement of the wipers is restricted by an external load, such as a buildup of heavy snow on the windshield, one or both of the wipers could become inoperative.

Owners of vehicles covered by these safety recalls will receive an owner notification letter via first class mail in the near future. Any authorized Toyota or Lexus dealer will perform this recall at no charge to the vehicle owner.

Detailed information is available to customers at www.toyota.com/recall and the Toyota Customer Experience Center at 1-800-331-4331 or www.lexus.com/recall and Lexus Customer Satisfaction (1 800-255-3987).
---
By Jeffrey N. Ross
---
See also: Ford only automaker to make 2012 Buzz Rankings, Toyota most improved, Redesigned 2014 Toyota Tundra spied testing in Canada, Autoblog Podcast #318.