Redesigned 2014 Toyota Tundra spied testing in Canada
Tue, 29 Jan 2013 17:25:00 EST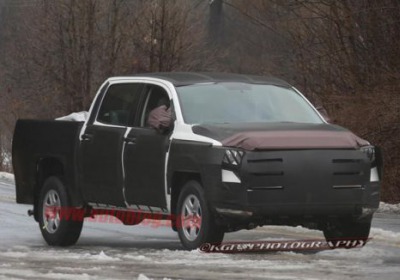 When Toyota first announced that it would be bringing the 2014 Tundra pickup to next month's Chicago Auto Show, we weren't quite sure if the truck would fall into the "all-new" or "refreshed" category. After seeing this latest set of spy shots, we're striking "all-new" from the record, but the enhancements do appear to be more than just a simple nip/tuck.

While the overall shape and greenhouse haven't really changed, heavy cladding found on the front fascia suggests that a totally redesigned nose is in store, with a fully reworked grille flanked by new headlamps. Smaller styling details are hidden by the big panels of camouflage, but we anticipate a few minor tweaks to the rest of the pickup's design when all that black tape finally comes off.

Mum's the word on powertrain enhancements (if any), as well as any changes that have been made to the chassis. But with the updated 2013 Ram 1500 already on the street, the recent unveiling of the updated 2014 Chevrolet Silverado and GMC Sierra twins, and a preview of what's to come from the likes of Ford, we certainly hope Toyota has injected enough new blood into its 2014 model year pickup to keep it competitive in this American-dominated segment. We'll know for sure come Chicago.
---
By Steven J. Ewing
---
See also: Autoblog Podcast #318, 2013 Toyota Camry Hybrid, Toyota, Kaley Cuoco grant wishes in Super Bowl XLVII ad.