Shelby Cobra, Mercedes 300SL and 1947 Woodie from Petersen Museum headed to auction
Mon, 29 Jul 2013 17:31:00 EST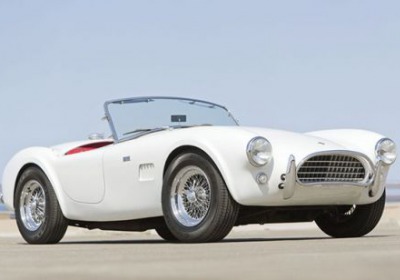 The changes happening at the Petersen Museum have been making the rounds in major press, but it probably won't be until August 18, during Pebble Beach, when we get the full story on what's happening; that's where and when museum reps plan on announcing the way forward for the SoCal institution. In the meantime, the museum is still reorganizing its collection, and that means auctioning some of its showpieces at this weekend's Auctions America event in Burbank.

Three of the stars are a 1964 Shelby Cobra 289, one of less than 20 produced with a three-speed C-4 automatic transmission, a 1960 Mercedes-Benz 300SL owned by actor Robert Stack and the last 1948 Ford Sportsman 'Woodie' ever produced. The Cobra, now restored to its original white exterior and red leather interior, was a factory demonstrator that first sold for $5,250. Showing just 38,950 miles on the odometer, its pre-sale estimate is $800,000 to $1 million.

The 300SL is actually a 1957 model but wasn't titled until Robert Stack took possession in 1960. The lead actor in the The Untouchables TV series used to drive by the Sunset Boulevard Mercedes dealership to ogle the car, but couldn't justify spending the money to buy it. When he and the producer of The Untouchables won Emmys for the show, the producer, who happened to be Desi Arnaz, bought the car for Stack. He owned it his whole life, it has been left as Stack drove it and still bears the California license plate "UNTCHBL."

The 100-horsepower 1947 Woodie is considered to be the last Sportsman ever built, one of just 28 examples produced that year. It's been thoroughly restored and returned to its Maize Yellow hue, with the original Birdseye Maple along its flanks and gray cardboard lining in its trunk.

They will go up on the plinth with rarities like a Jaguar XJ220, 1974 Mercedes-Benz 600 LWB Pullman Limousine and 1971 Ferrari 365 GTB/4 Daytona. You can read about the cars and the auction in the press releases below.

1964 Shelby Cobra 289

CSX2561
Estimate: $800,000 - $1,000,000
• 289-cid, 271-hp Ford OHV V-8 engine
• Rare C-4 automatic transmission (less than 20 produced)
• Well-documented example
• Chrome wire wheels
• Numerous factory accessories
• Factory Demonstrator

The notion of producing a hybrid sports car in the 1960s was, at its core, quite simple. While British manufacturers retained the edge in styling, road holding and superb braking, American firms held a distinct horsepower advantage. This "best of both worlds" concept was, of course, nothing new. Post-war Allards, Cunninghams, and Nash-Healeys used the same basic premise. Carroll Shelby, however, considered chassis' from Austin-Healey, Jensen and Bristol before settling on AC, after hearing that the builders of the stylish and sturdy Ace had lost their engine supplier when Bristol ceased production.

Attractive, lightweight and proven, the AC Ace could, by Shelby's thinking, be turned into a successful production racer by replacing its aging six-cylinder engine with a powerful, deep-breathing V-8. In September 1961, Shelby wrote Charles Hurlock, of AC Cars, to propose a hybrid car using the AC sports car body and chassis. "I'm interested," wrote Hurlock, "if a suitable V-8 could be found." Shelby moved quickly when Editor Ray Brock, of Hot Rod magazine, told him of Ford's new, lightweight small-block V-8. Soon after, Shelby had an early 221-cubic inch example installed in a stock AC Ace. In fact, the V-8 weighed just slightly more than the six-cylinder Bristol.

Ford engineer Dave Evans then offered Shelby an even better solution. A high-performance 260-cubic inch small-block V-8 was already in production for Ford's Falcon, and two engines would be on the way to him soon. They were immediately sent by airfreight overseas, and on February 1, 1962, Carroll Shelby flew to England to test drive the new Shelby "Cobra." The rest, as they say, is history.

According to the World Registry of Cobras & GT40s; the 1964 Shelby Cobra 289, CSX2561, was originally billed to Shelby American on August 25, 1964 and was shipped to Los Angeles aboard the SS Alblasserdyk. It was initially used as a demonstrator at Shelby American and was then invoiced to Hayward Ford Motors, of Hayward, California on January 27, 1965. At the time it was originally painted white with a red interior, just as it is currently presented here today. The Registry also states that CSX2561 came with an uncommon C-4 automatic transmission and was sold at a "Factory Demonstrator" price of $5,250.

The first owner of 2561 was Edwin Ovilice, of Oakland, California. By the early 1970s, the car was owned by Jim McCarthy, also from Oakland. The Cobra was later offered by Norm Sinai of Hayward in late 1980. A gentleman named Mr. Cole from California bought the car and then sold it circa 1982 to Donald Mansker of Houston, Texas. Jim Yancey of Paris, Texas next bought 2561in 1983. By this time the car had been fit with a chrome rollbar and had blue interior (both have since been removed and returned to original specifications). The Cobra was next seen being advertised for sale in spring of 1990, then later in 1992 was offered by an auction house. In 1993, the car reappeared in the classifieds and was sold later in the year to Guy C. Eavers from Staunton, Virginia. It is last mentioned in the aforementioned Shelby Registry as being for sale in the December 1996 duPont Registry as completely and immaculately restored with an unwrecked aluminum body, 38,950 miles and the rollbar removed and the interior color returned to its proper red leather.

This example is a standout among its peers. The factory C-4 automatic transmission is quite rare, records indicate that less than 20 examples were sold in this configuration. Ford Mustang floor-shift mechanisms were utilized, as seen in this car. Finished in white with red leather upholstery and red carpet, CSX2561 rides on chromed wire wheels and is shod with Goodyear Integrity tires. It is also equipped with factory accessories that include a soft-top, a spare wire wheel, front grille guard and rear bumper, chrome air cleaner, aluminum Cobra valve covers, adjustable wind-wings, tinted sun visors, competition seat belts, chrome exhaust pipe tips and an outside rearview mirror. Most impressively, this Cobra leaves you with many favorable driving impressions. It is quick, comfortable, tight, and drives very well - all one wants in such a high-performance machine.

The overall fit and finish of the body, paint, upholstery and engine bay is outstanding, with nothing overlooked. There are no blemishes of note on the paint, and the interior is stunning with its black dash and Stewart Warner gauges. Outstandingly presented, CSX2561 is certainly worthy of serious inclusion in the collection of discerning aficionados of post-war American muscle.


1960 Mercedes-Benz 300SL

Almost Entirely Original - Long-Term Ownership by Actor Robert Stack
Offered Without Reserve
Estimate: $600,000 - $800,000
Chassis no. 198.042.75.00512

2,996-cc, 250-hp overhead cam inline six-cylinder engine, four-speed manual transmission, coil spring independent front suspension, coil spring swing axle rear suspension and four-wheel hydraulic disc brakes. Wheelbase: 94.5-inches

All Mercedes-Benz 300SLs are celebrities, but some are more celebrity than others. This one is doubly celebrated by its long-time owner, Emmy-winning actor Robert Stack.

Racing languished at Mercedes-Benz after World War II, but a competition car was soon developed, using many parts from the 300 "Adenauer" sedan. The engine was given three carburetors and a new camshaft, and breathing was improved. To accommodate a low body, the engine was canted 45 degrees to the right. Transmission and axles came from the production 300, but the chassis and body were all new. Designed mainly by chief engineer Rudolf Uhlenhaut, the car was built on a tubular space frame and clothed in aluminum. The configuration of the space frame prevented low sills, so hallmark gullwing doors, pivoting upward, were adopted in place of a conventional forward-hinged arrangement.

Christened "300SL," for Sport-Leicht (Sports Light), a team of cars was entered in the 1952 Mille Miglia, finishing second and fourth. This promising result was followed by a 1-2-3 sweep in the Berne Grand Prix and, six weeks later, first and second at LeMans. A 1-2-3-4 finish at Nürburgring followed and a 1-2 victory in the La Carrera Panamericana in Mexico, the latter bringing Mercedes to the attention of Americans.

Among American cheerleaders was Max Hoffman, the New York importer. Hoffman saw a market for a road-going version of the 300SL, and ordered 1,000 cars. The production 300SL debuted at the International Motor Sports Show in the New York City in January 1954. The 300SL name was retained, invoking the fame of the competition cars, while internal Mercedes nomenclature designated the new car W198.

It differed in many respects from its competition forebear. The chassis and body were heavier, and the skin was now made of steel, with aluminum hood, doors and trunk lid. To compensate for the additional weight, the engine was made correspondingly more powerful, developing 215-hp thanks to a direct fuel injection setup, the first ever on a gasoline-powered car. Top speed was 145 to 160-mph, depending on the axle ratio, making it the fastest production car of its day. In all, 1,400 coupes were sold between 1954 and 1957, about 80 percent of them in the United States.

As the coupe was phased out, a new roadster model was created, introduced at the 1957 Geneva Salon. This concept had been previewed in 1955, with the appearance of the 190SL, an open two-seater with styling cues from the 300SL and utilizing a 1,897-cc four-cylinder engine from the 190 sedan.

To make the 300SL a roadster, the gullwings were dispensed with and the chassis redesigned to accommodate more conventional doors. The new chassis was heavier, so the engine was given a new camshaft and higher compression, good for another 20-hp. The rear suspension was re-designed with a compensating spring added to reduce oversteer. From March 1961 four-wheel disc brakes were fitted. An aluminum cylinder block replaced the cast iron unit a year later.

Although not as aerodynamic as the gullwing coupe, the 300SL roadster was still one of the fastest cars on the road, capable of 155-mph without complaint. Production continued into early 1963, by which time, with 1,858 built, it had proved more popular than the coupe.

Robert Stack was a car guy from the beginning. As a boy he sent away for catalogs, later he raced Model A Fords and speedboats. By 1960, he had been eyeing this car in a showroom on Sunset Boulevard. It was a 1957 model, painted avocado green with a crème interior and a beige roof. In 1998 he told a Motor Trend interviewer "the lines were just beautiful...Every day I'd look at it, and my wife would ask why don't I just save up and get it. Well, I'd never pay that much money for a car for myself."

He didn't, but someone else did. At the time, his long-running television series "The Untouchables" was among nominations for Emmy awards. When the trophies were handed out both Stack and his producer, Desi Arnaz, received one. By Stack's account "We're standing around holding the Emmys and Desi says 'Let's go outside, Amigo.' All of a sudden I hear a roar and around the corner screams this green Mercedes and a guy with Mercedes overalls gets out and says 'Mr. Stack, here are your keys.'" He kept it for the rest of his life.

A tasteful dark red now, it has the patina of age and enjoyment. The maroon leather seats show some scuffing from use, and the undercarriage corroborates the 87,000 miles on the odometer. It presents well, however, with excellent contours and only a few blemishes in the paint. It carries a matching hardtop, but the tan canvas top is underneath, albeit with a few stains.

Equipped with windshield washers and a recent Kenwood stereo, it is a most drivable car and one which we thoroughly recommend close inspection of as its appearance here today, may very well be its last in terms of availability on the open market.


1947 Woodie

Estimate: $235,000 - $260,000
• 239.4-cid, 100-hp L-head V-8 engine
• Three-speed manual transmission with Columbia overdrive
• Thought to be the last Ford Sportsman built
• Well-equipped, even by Sportsman standards
• One of only 28 produced in 1948

It is remarkable enough to encounter what is almost certainly the last Ford Sportsman built. To learn that it was originally a Christmas present and that its third owner had to purchase it twice is quite astounding.

Elbert Marston of San Diego, California, purchased the car from Pearson Ford in December 1947, and gave it to his wife, Georgia, on Christmas Day. For 20 years, Mrs. Marston, a teacher in the San Diego public schools, drove it to work every day. It was driven across country twice, and had two tops and a new radiator during her ownership. Twice the hydraulic system that operates the top and windows was repaired.

The car was well-equipped, even by Sportsman standards. In addition to a radio and heater, it was delivered with a front grille guard, windshield-post spotlight and outside left-hand mirror. The mirror is unusual, as it has a straight arm rather than the more common "swan's neck" type. During Mrs. Marston's ownership, it had a plastic rear window in place of the original glass type, installed when the top was replaced. The only true 1948 Sportsman convertibles, just 28 with 89A chassis numbers, were built during October 1947. This car has the highest body number of that run. Unlike other Sportsman body numbers, it has an "NN" prefix, the significance of which is not known. It has all the features of the later Sportsman models, including the revised trunk lid that sheds water better than the earlier design. Interestingly, the Sportsman was the only '48 model to retain the early coincidental ignition switch and steering wheel lock.

During the night of November 3, 1983, the Sportsman was stolen from Mrs. Marston's garage. Since it was already a celebrity car, and Mrs. Marston was well-known in several clubs, the theft was well-publicized within the collector community. The car hovered below the radar of the law and enthusiast network for several years. Eventually, it was offered to early Ford collector Bob Everts of Campe Verde, Arizona, one-time owner of another woodie in this sale. Everts purchased the car, but, when he went to register it, the chassis number came up as stolen. In order to legitimize the sale, he purchased the car again, this time from Mrs. Marston. He later sold it to W.T. "Ty" Froemke of Fontana, California, who performed a painstaking body-off restoration in 1988.

Froemke completely rebuilt the engine, boring it out 30 thousandths and turning the crankshaft. The pistons, rods, crankshaft and flywheel were balanced and the engine reassembled to factory specifications.

Collector Curt Heaton, of Corona Del Mar, California, bought the last Sportsman in May of 1988. Heaton kept it for 11 years, driving it about 10,000 miles and adding a Columbia two-speed axle for freeway travel. During that time he did no further work on it except the installation of new tires, a testament to the quality of restoration. In 1999 he sold it to Raymond C. Derby, of Cambria, California, from whom Nick Alexander purchased it in January 2006.

The last Sportsman remains gorgeous, as repainted in the original color Maize Yellow. The paint has no flaws and exhibits a deep shine. All body contours are correct. As for the wood body, it appears the wood workers at Iron Mountain decided to make the last Sportsman body something special. It contains large amounts of some of the most exquisite Birdseye Maple to come out of Henry's forest and over 60 years has acquired the rich patina of the finest antique furniture. It is truly a stunning automobile.

The seats are upholstered in red leather, all in good condition, and the front is furnished with lap belts for two. The floor has black rubber mats in front, and maroon carpet in the rear. The tan canvas top, with correct glass rear window, looks new, and is lined in tan. The dashboard woodgrain looks original, and exhibits a few scratches. The instruments and dashboard plastic are both good, as is the steering wheel, and the car has a radio, heater and working electric clock.

The luggage compartment is detailed in correct gray cardboard with a black rubber floor mat, and is furnished with a top boot. The 59AB engine is correctly outfitted and painted blue, but has seen many road miles since last detailed. The chassis and underbody are painted black, and show only modest road dirt. The car is fitted with Firestone 6.50-16 blackwall tires, installed in 2006, and there is a matching spare.

It is driven regularly and enjoyed and is stated to run and drive well. The odometer currently shows just over 82,000 miles, and the Columbia overdrive makes it feasible to effortlessly add many more. The car is registered with California year-of-manufacture plates 2A8311, which go with the car.

Fewer than 3,500 Ford Sportsman convertibles were built in two full years of production. Just 28 of those were 1948 models, survivors of which are few. This particular Sportsman, with its documented fascinating history, is absolutely singular. It represents and opportunity that will not soon be repeated.


ROBERT STACK 300SL ROADSTER LEADS GROWING LIST OF EXCITING VEHICLES AT AUCTIONS AMERICA'S DEBUT CALIFORNIA SALE

• Auctions America's inaugural California auction, August 1 – 3, features more than 400 quality collector cars with over half offered at no reserve
• Star attraction: 1960 Mercedes-Benz 300SL Roadster purchased by actor Desi Arnaz as a gift for Robert Stack after his Emmy win for "The Untouchables" to be sold to the highest bidder
• Additional highlights include a 1971 Ferrari 365 GTB/4 Daytona, 1968 Porsche 911 Soft Window Targa, 1960 Mercedes-Benz 190SL Roadster, 1974 Mercedes-Benz 600 LWB Pullman Limousine, 1971 Mercedes-Benz 280 SE 3.5 Convertible, 1994 Jaguar XJ220 Supercar and 1974 Ferrari 246 GTS Dino
• Exclusive, live television coverage of the sale to air on NBC Sports Network, August 2 from 7-9pm and August 3 from 1-5pm EDT
• Frequently updated list of entries available online at auctionsamerica.com

AUBURN, Indiana (June 21, 2013) – Alert the Untouchables fans, Auctions America will offer the 1960 Mercedes-Benz 300SL Roadster originally purchased by Desi Arnaz for Robert Stack at its highly anticipated California sale at the Los Angeles Marriott Burbank Airport Hotel, August 1-3. Purchased new by Arnaz in 1960, the actor gifted the 300SL Roadster to fellow television legend, Robert Stack, as a celebratory gift for winning the Emmy Award for Best Actor in 1960. The car, which remains almost entirely original, including its original hardtop and leather interior, is presented for sale to the public for the first time in more than 50 years. Offered without reserve, it will be sold to the highest bidder.

The 300SL Roadster leads a magnificent roster of highly desirable European collector cars secured for Auctions America's upcoming California auction, including a matching-numbers 1971 Ferrari 365 GTB/4 Daytona with tan interior and Borrani wire wheels, and a freshly restored 1974 Ferrari 246 GTS Dino complete with Daytona seats, factory air-conditioning, Becker radio and mouse hair dash.

For Mercedes-Benz enthusiasts, another early highlight for the SoCal sale is a 1974 Mercedes-Benz 600 LWB Pullman Limousine, showing just 48,000 miles from new and offered without reserve. The very late production car features an anthracite grey metallic exterior with black interior, a division window and a custom stereo and refrigerator. The Pullman is joined by a 1971 Mercedes-Benz 280 SE 3.5 Convertible with a navy blue metallic exterior, navy leather interior and a rare 3.5 liter V-8 engine, along with a 1960 Mercedes-Benz 190SL Roadster presented in perfectly restored condition.

The exceptional roster of early European highlights is rounded out by a 1968 Porsche 911 Soft Window Targa, finished in the incredibly rare and highly desirable color combination of Irish Green with brown leatherette upholstery. The car boasts a Porsche Certificate of Authenticity, headrests, Blaupunkt "Frankfurt" Radio and oil tank. Discerning collectors can also look forward to a 1994 Jaguar XJ220 Supercar resplendent in Brilliant silver with a grey interior and showing just 1,100 miles from new.

"Auctions America's dedicated presence in Southern California has allowed our experienced team of specialists to handpick European cars for the sale in response to local client demand," says Shelby Myers, car specialist, Auctions America. "The 300SL Roadster's celebrity provenance and stunning good looks make it the perfect match to our California event. Early interest in the sale has been tremendous, as reflected in the exciting docket of cars consigned to date, and this leading consignment, coupled with exclusive NBC Sports Network live coverage, promise to make the sale a debut not to be missed."

Held at the Los Angeles Marriott Burbank Airport Hotel, August 1-3, 2013, Auctions America's multi-day California sale will lift the gavel on more than 400 quality collector cars, including a diverse assortment of American and European classics and sport cars, Detroit muscle, hot rods and customs, catering to a broad range of automotive tastes and budgets. Exclusive live television coverage of the event will be broadcast on NBC Sports Network, August 2 from 7pm – 9pm EDT and August 3 from 1pm-5pm EDT.

For a frequently updated list of entries and full event details, visit auctionsamerica.com or call toll-free 888-990-3910 (or +1 310-842-3910 outside North America).

About Auctions America
Formed in July 2010, Auctions America specializes in the sale of American classics, European sports cars, Detroit muscle, hot rods and customs. Headquartered at the historic Auburn Auction Park in Indiana, Auctions America boasts an expert team of full-time vehicle specialists, who offer over 140 years of combined experience buying, selling, racing and restoring collector vehicles, making them uniquely qualified to advise on all aspects of the hobby. The company's established roster of annual events are held in some of the country's leading automotive destinations including Auburn, Indiana; Fort Lauderdale, Florida; Carlisle, Pennsylvania and Burbank, California. To learn more about Auctions America, visit auctionsamerica.com, find us on Facebook or follow us on Twitter @auctionsamerica.
---
By Jonathon Ramsey
---
See also: 2013 Ford C-Max Hybrid recalled over lack of roof padding, Ford EcoBoost successful because of Soviet laser weapons system expert?, Toyota hangs on to title of world's largest automaker for first half of 2013.