Santa upgrades to Lamborghini Gallardo, spreads joy in LA
Sat, 14 Dec 2013 19:59:00 EST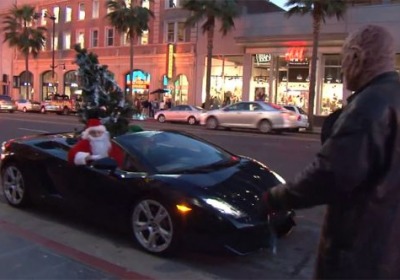 We understand. It's hard to slow down and really take in the holiday season, so it often comes and goes in a blur. That's especially so in Los Angeles, where almost everything moves fast and you feel like a face in the crowd. Determined to keep up with the fast pace and be noticed, one Santa Clause and his "elf" assistant decided to upgrade their "sleigh" - to a Lamborghini Gallardo (no reindeer needed).

We commend Santa's choice in the beloved Lamborghini and think Los Angelenos did notice him (though we're not sure he wanted to be approached by Freddy Krueger up there). Head below to watch Santa and his helper spread holiday joy with V10-powered goodness.



---
By Damon Lowney
---
See also: Lamborghini Gallardo successor to rock us like a Huracan?, Lamborghini trying its best to keep new Cabrera under wraps, Wild one-off Lamborghini Sogna for sale at $3M [w/videos].