Wild one-off Lamborghini Sogna for sale at $3M [w/videos]
Tue, 10 Dec 2013 19:00:00 EST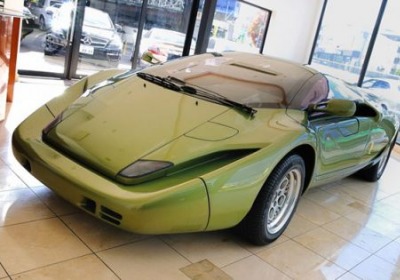 The Lamborghini Countach was the dream car for many teens and pre-teens in the 1980s, but at least one Japanese man thought there was room for improvement. As the story goes, Ryoji Yamazaki had a dream of a supercar as a 13-year-old, and at the age of 41, he used his design studio, Art & Tech, to create the Sogna in 1991.

Yamazaki unveiled the Sogna at the 1991 Geneva Motor Show as a rebodied Countach with intentions of selling it in limited production, but thankfully – or sadly, depending how you look at it – the $1.6 million (1991 price) coachbuilt supercar never made it into production. The Geneva show car was a rolling chassis, and the only other example that was produced was a fully operational version, shown above, which was unveiled at the 1994 Essen Motor Show. This car from Essen is now listed for sale on James Edition for 2.38 million euros, or around $3.25 million USD.

With its oddball styling and kiwi green paint, the Sogna was likely doomed from the start, but it still boasts the Countach's full powertrain including the 448-horsepower, 5.2-liter V12 and a claimed top speed of 186 miles per hour. Check out more images of the 1994 Sogna at James Edition and Enmann, and we also found a couple videos, which are posted below, of the car's early development.




---
By Jeffrey N. Ross
---
See also: Charity supercar run results in 3 Lamborghinis going up in flames, Lamborghini's Lock out as American COO, Lamborghini Veneno Roadster stands in for fighter jet aboard Italian carrier.