Rumored Kia Soul EV spied for the first time
Mon, 08 Jul 2013 13:31:00 EST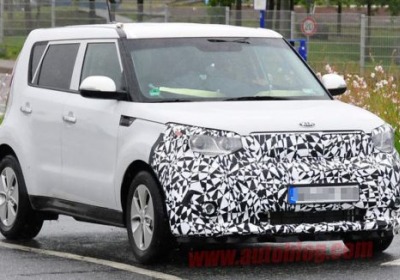 Up until now, we've only heard rumors about an all-electric version of the second-generation Kia Soul, but these spy shots seem to confirm that the Korean automaker is developing a zero-emission version of its quirky little box-back. Our most recent report has the Kia EV showing up in the first half of next year (likely for MY 2015) with a starting price of around $35,000 (presumably before tax credits) and a range of about 120 miles.

While the front and rear of this prototype remains heavily camouflaged, we can see some differences between this car and the 2014 Soul we saw earlier in the year at the New York Auto Show. For starters, the entire front end seems to be changed, including the hood, headlights and fascia, and we would expect Kia's so-called Tiger Nose grille to be blocked off for improved aerodynamics. Further supporting our shooter's claims that this is an electric vehicle is the fact that the Soul's exhaust pipe is missing from beneath the rear fascia.

Previous reports have indicated that the Soul EV will become "the very-first electic vehicle to be sold in the global market, including the US, Europe and China." It would appear that claim may be validated by technicality only – Nissan sells its Leaf in the US and Europe, and it will reportedly be sold as the Dongfeng Fengshen E30 in China.
---
By Jeffrey N. Ross
---
See also: Is Kia working on a sporty convertible?, 2014 Kia Cadenza, Why BMWs are cheaper than Hyundais in Korea.